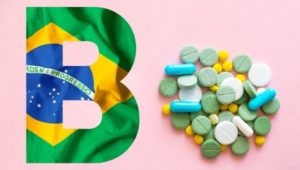 The regulations for pharmaceutical serialization in Brazil are implemented in three stages. They provide for the tracking of every event along the supply chain. It makes Brazilian legislation much more complex to implement than, for example, European legislation, as all participants in a supply chain must be involved in the process.
Designation: SNCM (National Medicine Control System), RDC ANVISA No 157/2017, Law No. 5.991/1973.
Competent Authority: ANVISA (National Health Surveillance Agency).
Products: Pharmaceutical products for curative, palliative, or diagnostic purposes.
Code type: GS1 Data Matrix ISO/IEC 16022:2006
Aggregation: yes, with transport packaging identifier (IET).
Timeframe: The percentage of serialized drugs is expected to gradually increase. Since October 2020, pharmaceutical companies must be able to serialize 25% of their drugs. By April 2022, this is to be 100%. Reporting is also to be complete by April 2022.
The Brazilian serialization system is a track-and-trace system. Every physical movement of a drug must be reported to the authority, from the manufacture of the drug to its delivery to the patient. Thus, a total of over twelve events must be tracked along the supply chain, depending on how many stations a drug passes through before it is dispensed to the patient. Therefore, manufacturers/importers must be in contact with their partners throughout the supply chain (e.g. logistics, wholesalers, pharmacies, etc.). All direct and indirect partners within the supply chain are involved in the process to comply with regulations.
The three phases of the ANVISA Brazil policy
One-year pilot phase started in September 2017.
September 2018 to May 2019: evaluation of the pilot and specification of technical instructions
May 2019 to May 2022 final phase, includes unit-level serialization.
The Brazilian serialization code
A unique identifier is provided by the IUM (Unique Medicine Identifier) per individual package and an identifier for the transport package (IET, Identificador de Embalagem de Transporte), which must be applied to the respective transport package and is linked to all IUM (aggregation). The data must be presented in a 2D QR code.
ANVISA Medicine Registry Number
unique serial number (up to 20 characters, generated by a pseudo-random number generator, not linked to GTIN)
(Global Trade Item Number, GTIN, not mandatory as not part of IUM)
All pharmaceutical manufacturers not located in Brazil can also delegate the serialization and reporting task to a CMO or trading partner in Brazil, this company must be registered with SNCM.
More information about Global Compliance
[Disclaimer]
This information is only one possible interpretation of the regulations. They are also in a constant state of change, so the information in this article may be incomplete or out of date. The above article is expressly no legal advice. Please refer to the official documents for information before making any business decisions. (Status of information: February 2021)