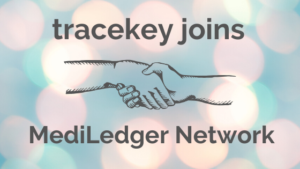 We are pleased to announce our collaboration with Chronicled and its connection to the MediLedger network. With our new partner, we will reach the next milestone on our roadmap and make the supply chains of the pharmaceutical industry even safer.
Together, we will provide our pharmaceutical customers with the technology they need to meet the regulatory requirements of the US pharmaceutical market. Wholesalers in the U.S. have to deal promptly with the question of how they can check returns for authenticity in a practicable and mass-produced manner. Even if the FDA has granted a short postponement, the challenge for the industry remains enormous. With the connection of the Mediledger Blockchain, tracekey customers now can establish efficient processes with wholesalers in the USA.
Together with tracekey, Mediledger forms the largest network for implementing a Verification Routing Service (VRS). The solution will be interoperable with other VRS systems and will adhere to current VRS business requirements set forth by the HDA VRS Task Force and GS1 lightweight messaging standards.