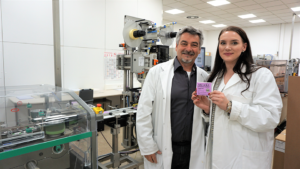 The Chemische Fabrik Kreussler & Co. GmbH with its pharmaceutical division became a tracekey customer almost one year ago. Both partners celebrated the successful completion of the implementation project for Kreussler's business activities in the US with a customer visit.
Together with tracekey, Kreussler implemented the DSCSA guideline and adapted its production to the US serialization requirements. Now that this milestone has been successfully reached, new challenges are already on the horizon. We want to implement the complex requirements of the Russian Federation's labelling obligation just as successfully as we did in the US project, and the serialization processes will have to be adapted by 1 January 2020 for the Russian market.
Picture: Katharina Wegner, Customer Success (tracekey) and Alfred Seidler, Project Manager Serialization (Kreussler) in front of the US-Production Line.