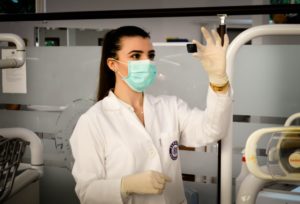 The Medical Device Regulation (MDR) is an EU directive that will come into force on 26 May 2020 and represents a further large-scale revolution in industry. In addition to some reclassifications and high demands on data management, Unique Device Identifiers (UDI) on medical devices will also become mandatory. UDI labelling was introduced in the USA as early as 2013.
The MDR combines two EU directives and replaces them with one single directive
– Directive 93/42/EEC on medical devices (Medical Device Directive, MDD)
– Directive 90/385/EEC on active implantable medical devices (AIMD)
The new regulation changes a lot for manufacturers. This includes the reclassification of some products and medical devices must be clearly identifiable and traceable. The corresponding data is exchanged via the Unique Device Identifier Database (UDID). The UDI database is a component of the EUDAMED database in which the data must be stored by the end of May 2020. The product labelling obligation is staggered over several years, but the data must already be stored from 2020 onwards.
Class III and implants: May 2021
Class IIa and IIb: May 2023
Class I: May 2025
Medical devices also include medical software if they are used, for example, for diagnosis or predicting diseases. Instruments and implants also fall under this category.
What will the UDI look like?
The MDR covers the premise of serializing medical devices, i.e. equipping them with a Unique Device Identifier. The UDI regulation is intended to make the life cycle of the products comprehensible and, for example, to simplify recalls. Counterfeits can also be better detected, as is the case with drug serialization, or it will be more difficult to bring them into the legal supply chain. The requirements for the UDI are as follows:
– plain text
– machine-readable
– on all packaging parts of the product
– 2 components: DI (Device Identifier) and PI (Production Identifier – GTIN)
The Device Identifier is the product identifier and serves to identify the medical device. The Production Identifier is the manufacturing identifier and thus contains the date of manufacture and expiry as well as the serial number. The machine-readable code can be applied either as a data matrix code or as a barcode. The UDI-DI of a medical device is either an alphanumeric or numeric individual code. The UDI-DI contains both the product identifier and the master data. These include:
– manufacturer name
– type of control
– quantity per pack
– clinical size (length, width, volume, diameter)
– warning notices if required
Is a software system necessary?
Master data management within the framework of UDI is a major challenge for manufacturers. It is possible to meet this challenge via an internal solution, or to find an external software solution with which the data can also be managed in compliance with regulations. A software solution is ideal because, for example, all UDI assigned by a manufacturer must be collected centrally in a list. In addition, if something changes in the master data, a new UDI-DI may have to be assigned. Changes that require a new UDI allocation:
– (Trade-)Name- Product model/version
– Need for sterilization before use
– Warnings- Contraindications
– Product quantity in a packaging
– …
MDR also requires that the data must be up-to-date and consistent across systems. Depending on the product portfolio, a simple Excel list could quickly reach its limits and then no longer meet all requirements. In addition, a "Single Point of Truth", i.e. centrally managing all data at one location, is less complicated and prevents different data from being entered at different locations.