Traceability solution for the pharmaceutical industry
We provide the right pharma serialization software solution for companies that must meet the traceability requirements of the pharmaceutical industry.
[If you cannot see a video here, this is due to your cookie settings.
Watch the video
]
For the pharmaceutical industry, serialization represents a deep cut and a digital turn of time in the previous work processes. As an established Level 4/5 provider, we provide a cloud-based supply chain solution that implements serialization for the pharmaceutical industry functionally and without great additional effort. We offer standardized, proven best practices that enable our customers a speedy implementation and easy usability: mytracekey PHARMA
Benefits
Cloud deployment and maintenance
Fast onboarding and easy validation
Ready-to-use software including connectors to common serialization systems
You want to know more?
Please contact us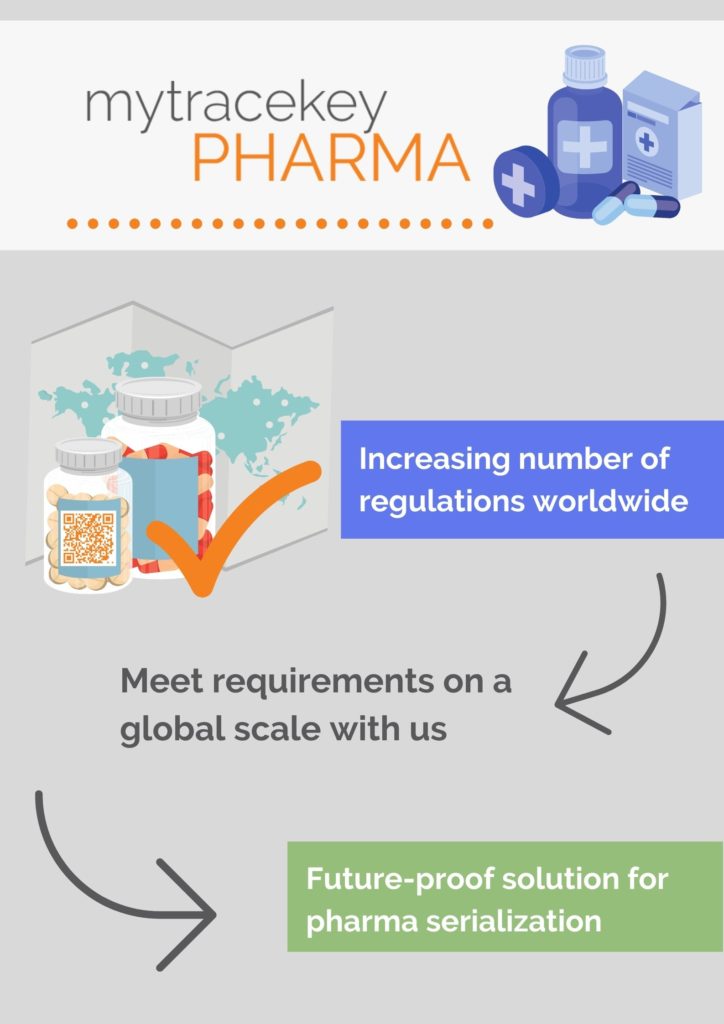 An extensive network is of great importance for the serialization process. Especially the connections to other IT systems and serialization providers play a central role. To ensure fast and clear communication within the manufacturing process, we are constantly expanding the network. Equally essential is the connection to national and supranational authorities which makes tracekey an internationally usable solution.
Pharma Serialization: Global Compliance
The EU is one of many regions actively combating counterfeit medicines and medical devices. There are numerous projects and legislation around the world. Whether Russia (2020), the USA (full implementation 2023), or China (2022) – with tracekey you achieve global compliance.
The implementation of traceability regulations is not a one-off project, but a continuous task whose framework conditions will change in the future. Our customers not only receive assistance in the implementation of regulations but also long-term support in the execution of the serialization process. This approach makes us a popular partner for small and medium-sized companies.
Learn more about tracekey technology: Our Community Cloud