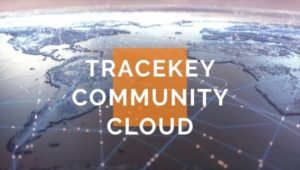 What the Big Ones Can Learn from Us
Our corporate strategy is based on three pillars. The consistent operation of our solutions in the cloud, a modern and flexible software architecture, and agile organizational and development processes. As a full-service solution, we offer our customers from the SME segment what they need. A sustainable, future-proof, and quickly available solution without having to worry about the IT infrastructure.
The cloud offers not only advantages for our customers but also the right basis for our corporate strategy. At tracekey, the advantages that arise from the cloud, are reflected in the entire organizational structure. Our software has a modular design, is developed by a small, agile team strictly according to the latest Scrum techniques, is based on the latest technology, and does not require bulky software components of established IT companies. Cloud, system architecture and corporate structure are designed in a way that the product is sustainable and scalable as a full-service.
"Our modern system architecture and agile development approach make it much easier and more cost-effective for us to implement new regulations in our software and to react to changes at short notice than for other companies in the field. Stefan Hoffmann, CEO, and founder of tracekey
One for all, all for one: the tracekey Community Cloud
With tracekey, all customers work in a community cloud. That means they use the mytracekey software in a common cloud environment, but each with their own client (customer account). An everyday example of this type of cloud use is online banking. Here, too, all data is processed in one cloud, but banking secrecy is still maintained. Protected personal areas for each customer ensure this. All our customers' data is also stored in a private area that is not accessible to others.
The shared use of a cloud is advantageous. In the case of a private cloud, i.e. a separately used cloud per customer, for example, changes to the software are much more complex to implement. If there are changes or extensions in the community cloud, they are not implemented for just one customer but are equally accessible to all. So, all our customers benefit from the continuous development of the mytracekey software. This saves resources and thus costs for everyone – customers as well as providers.
What are the benefits of our SaaS solution for pharmaceutical serialization?
mytracekey Pharma is not installed on-site at the company but is operated as a full-service product in the cloud.
Our customers only need an internet-capable PC and can access their area via their web browser anytime and anywhere.
The software has a modular structure:
adaptable to the user role
clearly arranged
can be flexibly expanded
no long development times
The annual fee depends on the production volume of the respective customer. Thus, the price of our serialization software is predictable and easy to calculate.
No lengthy IT-projects for changes.
No costs for maintenance or hardware.
At tracekey, we understand SaaS as a comprehensive service. Our offer includes the software, its (further) development, its provision, operation, support, and continuous validation, including the corresponding documents. In addition to the software, our focus is on the extensive service offer for our customers. Our Customer Success Team provides support from on-boarding to regular operation. mytracekey Pharma is, therefore, a full-service solution in the cloud that helps pharmaceutical companies to meet worldwide serialization requirements (Global Compliance).