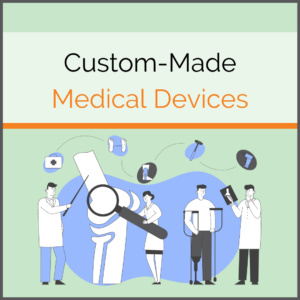 A custom-made device in MedTech is a product prescribed to a patient by an authorized person, such as a physician. This product, by prescription, is manufactured exclusively for the respective person. Mass products with adaptions adjusted to fit the user's needs are not considered as custom-made devices.
Custom-made devices were already part of the Medical Devices Directive (MDD). Now, they also have a place in the Medical Device Regulation (MDR). Unlike serial products, they are custom-made for specific patients with special needs. However, the regulation of custom-made devices is challenging for regulators because it requires a balance between patient safety, innovation, and flexibility. This article addresses MDR requirements and their differences from standard products. It also highlights manufacturer obligations.
What does the MDR say?
According to the MDR, custom-made devices are subject to different regulatory requirements than standard products. Custom-made devices must also comply with the MDR's general safety and performance requirements but are exempt from some conformity assessment procedures required for mass-produced devices. However, manufacturers of custom-made devices must still demonstrate that their products are safe, effective, and have an appropriate risk-benefit ratio for individual patients. In addition, a quality management system needs to be established which is in alignment with the design and manufacture of these devices. Patient-specific labeling and instructions for use must be provided to ensure that the product is traceable throughout its lifecycle.
Differences from standard products
Custom-made devices are exempt from specific assessment procedures that are mandatory for standard products. These include:
Notified Body Conformity Assessment: custom made devices are not required to undergo the Notified Body Conformity Assessment that is mandatory for most standard products. Instead, the manufacturer of a custom-made device is responsible for ensuring that the device meets the requirements of the MDR. However, this exemption does not apply to custom-made implantable devices of class III.
Performance studies: custom made devices are exempt from the performance evaluation requirements applied to standard products. However, the manufacturer must still demonstrate that the device is safe and effective for the individual patient.
Clinical evaluation: custom made devices do not need to fulfill the exact clinical evaluation requirements as standard products. However, the manufacturer must continue to collect and evaluate clinical data on the safety and performance of the product for the individual patient.
Manufacturer Obligations
For custom-made devices, the MDR requires manufacturers or authorized representatives to issue a statement listing the following information:
Name and address of the manufacturer or authorized representative.
Identification data for the product
A declaration that the device is custom-made, including the name or numeric code identifying the person using the device.
Specific characteristics of the product
Declaration of compliance with MDR requirements and, if applicable, a declaration with justification in case of non-compliance
If applicable, a note on ingredients or constituents if the product is used along with a medicinal product.
Manufacturers have to archive this declaration for at least ten years after market introduction. For implantable products, it is 15 years. Manufacturers of custom-made devices must report malfunctions of their products to the relevant authorities, as with standard products.
Are you still looking for suitable software to manage your product data efficiently and MDR compliant? Then have a look at our mytracekey MedTech solution.
[Disclaimer]
This information is only one possible interpretation of the regulations. They are also in a constant state of change, so the information in this article may be incomplete or out of date. The above article is expressly no legal advice. Please refer to the official documents for information before making any business decisions. (Status of information: March 2023)