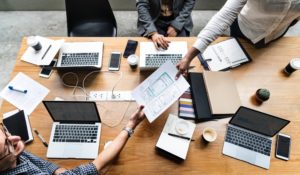 The Ruhr area is to become a hotspot for B2B data and data-oriented start-ups – and it looks good, the current economic report shows that numerous people now work in the promising digital sector. In doing so, they also support the industry located in the Ruhr area.
The Ruhr area currently has as many jobs as at the beginning of the coal crisis in 1981. Although most jobs can be found in the health sector, the industry is also catching up – especially in terms of turnover. "Industry is renewing itself with the possibilities of digitalization," explains Rasmus C. Beck, Managing Director of Business Metropole Ruhr.
The Ruhr area can record the largest increase in employment in digital communication – 6.5 percent. More than 55,500 people work in this sector, dealing with software, data processing, and digital networking. The Gründer Allianz Ruhr has even set itself the goal of turning the Ruhr area into a hotspot for B2B data and data-oriented start-ups. This means that tracekey has its finger on the pulse of time and is in the starting blocks to support the industry in the Ruhr area with digitalization.
tracekey is a partner for medium-sized businesses in the Ruhr area
With the topic pharma serialization, tracekey has initially positioned itself internationally, and the industrial companies located in the Ruhr area offer great potential for cooperation and common topics. "After all, the pharmaceutical industry is the most heavily regulated industry in the world," says Gerald Wenzel (CEO, tracekey solutions), explaining the advantage for the regionally based industry. "At the same time, we also live the Ruhr mentality in the company, so we roll up our sleeves and get started."
Digitalization has posed major challenges for the pharmaceutical industry, and there are similar challenges in other branches. That's why a competent partner is needed for digitalization. tracekey is ready with the right solutions when it comes to Big Data, Cloud, and similar things.
What does Industry 4.0 need?
A key aspect of the industry is the seamless tracking and tracing of processes and goods. This requires, among other things, a secure and reliable platform, a cloud, and the ability to merge the collected data (big data) and draw meaningful conclusions from them, i.e. to transform them into smart data. For a fast connection, the systems must therefore be highly standardized, but at the same time offer open interfaces to be able to integrate third-party providers and partners. Once this basis has been created, digitalization leads to greater productivity, modernization and thus makes companies fit for the future.