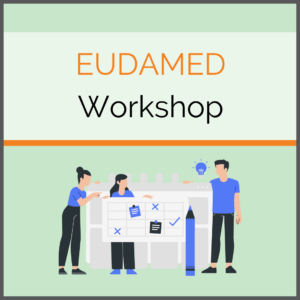 With the Medical Device Regulation (MDR) coming into force, manufacturers are faced with several new obligations. This usually means more work for the same number of employees. In addition, EUDAMED does not stand out for its user-friendliness and straightforwardness. Companies have to register in EUDAMED, then the users have to be assigned their respective roles and the products have to be entered into the database last. Initially, the elaborate European Union database can seem overwhelming. To help navigate and comply with the MDR, we offer an EUDAMED workshop.
While our mytracekey MedTech solution is worthwhile for companies with multiple products, that is UDI-DIs, our EUDAMED Workshop mainly supports companies with few medical devices. Instead of a software solution that facilitates the maintenance of multiple products, small and medium-sized companies receive an introduction to EUDAMED. The workshop makes it possible to specifically address individual questions and focus topics.
What does the workshop look like?
At the beginning of the workshop the four different user profiles Local Actor Administrator (LAA), Local User Administrator (LUA), Proposer, Confirmer, and Viewer, and their different tasks and rights will be explained. These are important for the future use of EUDAMED. Together the profiles needed for your specific scenario will be discussed, worked out, and suitably defined. Then these defined profiles are created, and it is explained how to edit them. Once the profiles have been created, the UDI-Module is demonstrated. The Basic UDI-DIs and UDI-DIs are also entered during this part. Whether this is done in the live version of EUDAMED or the test version is up to the customer. The workshop usually takes place remotely and the duration can vary between two and a half to four hours.
What is taught?
The complexity of the MDR and its database will be explained understandably. After the EUDAMED workshop, participants will be well versed in its use and should be able to use it themselves without any problems in the future. Specifically, participants will know which user role they need for which tasks, and, most importantly, they will be able to create Basic UDI-DIs and UDI-DIs themselves. If the company's products change or even new ones are added, they can be entered into EUDAMED independently. Whether people from supply chain management, quality management, IT, or even more participate, it does not matter. Our workshop helps companies not to miss the digitalization of the MedTech industry. Nothing stands in the way of EUDAMED compliance.
Feedback from the first workshop
The initial idea for the workshop came up when reer GmbH approached us. They became aware of us through one of our marketing campaigns and asked for general assistance in dealing with EUDAMED. Through our work with MDR and EUDAMED, we were aware that it takes a lot of time and effort to become familiar with it. Especially if you have to go about your daily business at the same time. So why not just share our accumulated knowledge? We proposed to conceptualize a workshop to get started with EUDAMED. The first participants came from reer. What struck them, particularly positively was the orientation towards the customers. The workshop is conducted in a "learning-by-doing" manner instead of frontal instruction. Through direct exchange and interactive design, the content should be memorable in the long term.
"Thank you very much for the successful workshop! The workshop was clearly structured and very customer-friendly oriented."
– reer GmbH
Do you also need help with the introduction to EUDAMED? Contact us for a non-binding consultation.