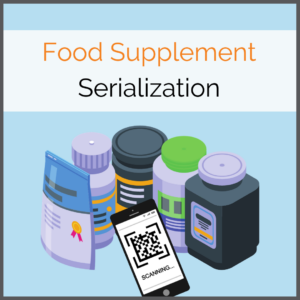 Chestny ZNAK is the track andtrace system for the Russian market. Apart from pharmaceuticals, it ensures the security of the supply chain of many other goods. These goods include tobacco products, beer, medical devices, and food supplements. Counterfeit protection is expanding to fields other than pharmaceuticals, as Russia's markets are particularly affected by counterfeiting. According to its data, the rate of counterfeit products from the manufacturing industries is at 35 percent, for perfume at 20 percent, and for medicines still at 10 percent. Chestny ZNAK is designated to put a stop to this.
Labeling of dietary supplements and their tracking along the supply chain will become mandatory from October 1, 2023. This measure also serves the safety of end users and prevents potentially harmful products from entering the market. Unlike comparable systems, however, counterfeit protection is additionally ensured by crypto codes. But what is the difference between Chestny ZNAK and "conventional" serialization, what is the future timeline for food supplements in Russia, and what else is there to know about Chestny ZNAK?
Chestny ZNAK
The national track and trace system Chestny ZNAK was announced by law at the end of 2017 and implemented in April 2018. To follow international examples, Chestny ZNAK is operated by a public-private company. It is called the "Center for Research in Perspective Technologies" (CRPT) and is owned 50 percent each by private and public sectors. The Russian track and trace system also has another peculiarity. Consumers can use an app to test the authenticity of the products themselves. To do this, they must scan the corresponding 2D DataMatrix and receive detailed information. Included are the time, date, and place of manufacture. The shelf life, size, color, and the product's material are also listed. Additionally, you will find the price, location, and date of sale, plus other information about the goods in circulation.
Crypto codes
With the introduction of product tracking in Russia, a problem crystallized, which meant that the commercially available serialization and DataMatrix were insufficient. The reason for this is the size of Russia's territory and the resulting gaps in internet coverage. As a result, they contain a lot more data than those commonly used in the EU. Not every sales location has the possibility to check the serialization numbers online. Crypto codes serve as a solution to this problem. Therefore, serialization in Russia consists of two mandatory codes, which are divided into four sections. On one hand, there is the product code and the serial number. On the other hand, there is the crypto code, consisting of a signature and a key.

The product code, in the form of a Global Trade Item Number (GTIN), and the serial number are used for online verification. The additional crypto code enables offline verification. These two pieces of information are always mandatory. Optionally are the batch number, the expiry date, and an additional Product Identification.
| | | | |
| --- | --- | --- | --- |
| Description | Application Identifier | Format | Mandatory |
| GTIN | 01 | 14 numeric | Yes |
| Serial number | 21 | 13 alphanumeric | Yes |
| Crypto key | 91 | 4 alphanumeric | Yes |
| Crypto number | 92 | 44 or 88 alphanumeric | Yes |
| Batch number | 10 | 20 alphanumeric | Optional |
| Expiration date | 17 | 6 numeric | Optional |
| Additional Product Identification | 240 | 4 alphanumeric | Optional |
Composition of the Crypto Code
Deadlines for labeling
The regulations for the labeling of food supplements in Russia will gradually become mandatory. The timeline starts on September 1, 2023, and ends on September 1, 2025.
September 1, 2023: All stakeholders, which include manufacturers, importers, distributors, wholesalers, retailers, online retailers and marketplaces, and pharmacies who distribute dietary supplements must have registered in the Chestny ZNAK system and cataloged their products by this date.
October 1, 2023: Manufacturers and importers are required to provide their products with the necessary labeling. They must also submit all information regarding the placement on the market to Chestny ZNAK.
November 1, 2023: Importers must aggregate their goods as of this date and forward the aggregation data to the Chestny ZNAK system.
March 1, 2024: From this date onwards, all stakeholders are obliged to submit returns of their products to the system and withdraw suspicious items from circulation.
May 1, 2024: From this date, players will be required to submit information on their sales of dietary supplements to Chestny Znak via electronic data interchange.
September 1, 2025: By this date, all affected products sold in a store must be scanned beforehand. Thus, all necessary information is submitted to Chestny ZNAK. Additionally, all sales processes must have been tested and the availability of the necessary 2D scanners guaranteed.
Due to our many years of experience in pharmaceutical serialization, we are particularly prolific in this area. However, if you are also interested in the serialization of other products for the Russian market, such as dietary supplements or medical devices, please feel free to contact us.
[Disclaimer]
This information is only one possible interpretation of the regulations. They are also in a constant state of change, so the information in this article may be incomplete or out of date. The above article is expressly no legal advice. Please refer to the official documents for information before making any business decisions. (Status of information: September 2023)