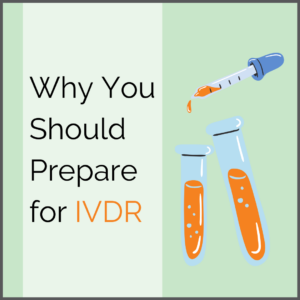 The In Vitro Diagnostics Regulation (IVDR) is often mentioned in the same breath as the Medical Device Regulation (MDR). Both regulations came into force on May 25, 2017, and both replace their respective predecessors: the MDR replaces the MDD, while the IVDR replaces the IVDD. A comparison of the regulations is not far off, as in vitro diagnostics are a subcategory of medical devices. However, manufacturers of in vitro diagnostics face completely different hurdles than producers affected by the MDR.
When preparing for the IVDR, it should be noted which products are affected and what general requirements and changes there are compared to the IVDD. In addition, the respective deadlines of the individual classes are relevant.
Who is affected by the IVDR?
All manufacturers of in vitro diagnostic devices must comply with the IVDR. According to the European Union's definition, in vitro diagnostic devices are medical devices intended to be used in tests on samples taken from the human body. These include, but are not limited to, reagents, reagent products, calibrators, control materials, kits, instruments, apparatus, piece of equipment, software, or systems. These are intended to
determine physiological or pathological processes or conditions,
congenital physical or mental impairments,
predisposition to a particular health condition or disease,
safety and tolerability in potential recipients,
likely effects of, or reactions to, a treatment; or
establish or monitor therapeutic interventions
to provide information. Of note here is that products approved for the IVDD will require recertification.
General requirements and changes
One of the main components of the new IVDR is the link to EUDAMED. This is intended to create transparency for patients, who will then be able to trace products and view manufacturer and product data. Additionally, there are also some changes compared to the IVDD. These include:
Expanding the scope of competence regarding self-testing and near-patient testing. Also, tests to help physicians make treatment decisions.
The lack of grandfathering mentioned above. This will require recertification of existing products.
Appointment of a quality management person and associated compliance requirements.
Stronger conformity assessment of high-risk products and stronger monitoring by Notified Bodies.
Notified Bodies themselves will also be more strictly monitored in the future, resulting in fewer of them.
Enhanced post-market surveillance of products and vigilance system.
Introduction of a system for tracing medical devices using UDI (unique device identification).
A new classification system.
What are the deadlines for the IVDR? – Classes and deadlines
The deadlines for IVDR preparation depend on the class of a medical device. They are divided into A, B, C and D. Class A represents the lowest risk for patients and the general public, from class B to D it increases. Class D therefore poses the greatest risk. Approval is granted through the involvement of a Notified Body. Class A products are exempt from this. It is therefore not necessary to check documents of this class, but they can be requested by the competent authority. The IVDR is effective from 26 May 2022, but the European Union has extended the transition period again to give manufacturers more time to prepare. The deadlines for the classes are as follows:
class D: May 26, 2025
class C: May 26, 2026
class B: May 26, 2027
class A: May 26, 2027 (products placed on the market in sterile condition).
This means that devices placed on the market before May 26, 2022, can continue to be marketed under an IVDD certificate until May 26, 2025.
Why is it necessary to prepare?
It makes sense to prepare early for IVDR so that you don't get into trouble at the deadline. Similar to the MDR, the IVDR is a complex regulation that takes time to be understood and especially to be implement. Moreover, some aspects cannot be controlled by manufacturers. For example, due to the change in classification system, it is expected that in the future up to 90% of all in vitro diagnostics will have to be tested by a Notified Body. In contrast, this rate is currently less than 15%. Furthermore, due to stricter control of Notified Bodies, there will be fewer of them in the future. Another point is the possible need for recertification.
The points mentioned can lead to a significant increase of the conformity assessment procedure. In the worst case, it can lead to products having to be withdrawn from the market, resulting in reduced customer confidence and lost sales. It is essential that you take these points into account at an early stage and initiate the necessary processes in your company. It also makes sense to look for suitable and experienced partners at an early stage.
[Disclaimer.]
This information is only one possible interpretation of the regulations. They are also constantly changing, so the information in this article may be incomplete or out of date. The above article is expressly not legal advice. Please consult the official documents for more information before making any business decisions. (Status of information: May 2022)