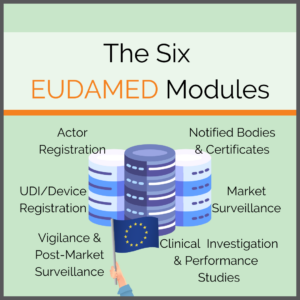 An important component of the MDR and IVDR is the EUDAMED. As a central database, it is intended to create more transparency, bundle information, and serve as an exchange and reporting platform for the individual actors. To this end, it consists of six modules that cover various topics ranging from the registration of medical devices and players to market surveillance and the reporting of incidents.
With EUDAMED, the European Commission has developed an IT system that maps the requirements of MDR 2017/745 and IVDR 2017/746. It thus replaces the Eudamed2 database that existed under the previous Medical Device Directives. The acronym EUDAMED stands for EUropean, DAtabase on MEdical Devices. The EUDAMED has different purposes, among other things, it serves as a
registration system
collaboration system
reporting system
processing system
Through its modules and the resulting transparency for both, all market participants and the public, as well as the possibilities for the exchange and coordination of information, it contributes overall to better collaboration and a uniform information base. Thus, it forms the core of the MDR and IVDR.
The Six EUDAMED Modules
Consisting of six interrelated modules, the EUDAMED will offer content, some of which will be available to the public:
Actor and User Registration and Management
UDI Database and Registration of Devices
Certificates and Notified Bodies
Clinical Investigation and Performance Studies
Vigilance and Post-market Surveillance
Market Surveillance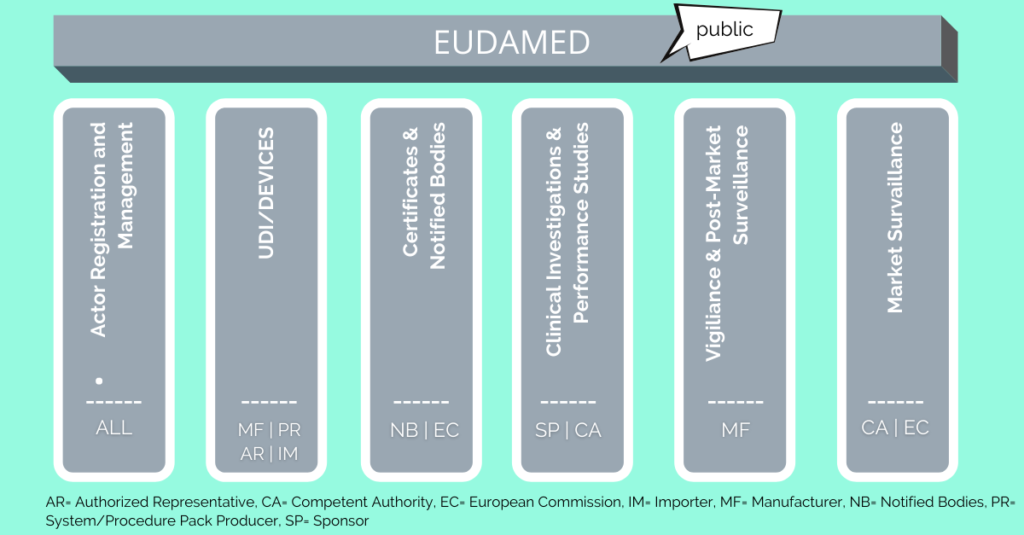 Actor Registration Module (available since December 2020)
The Actor Module requires all players who collaborate with it in any way to register with EUDAMED. The actors belong to two groups: Supervising Entities and Economic Operators. Traders are not required to register with EUDAMED.
Supervising Entities:
European Commission (EC)
Competent Authority (CA)
Designated Authority (DA)
Notified Bodies (NB)
Economic Operators:
Manufacturer (MF)
Authorised Representative (AR)
System & Procedure Pack Producer (PR)
Importer (IM)
All operators are assigned a Single Registration Number (SRN) upon registration with EUDAMED. The SRN is used to identify all Economic Operators. It consists of the Country ISO2 Code, the Actor Role Abbreviation, and a nine-digit number (BE-MF/AR/PR/IM-Number). For each role, a unique number is assigned. If an economic operator holds several roles, they receive a separate SRN for each. Accordingly, the operators must register separately for each role. For non-EU companies, the registration process runs through their Authorized Representative (AR).
For registration in the Actor Registration Module of EUDAMED, the following information, among others, must be provided:
name
address
information about the Person Responsible for Regulatory Compliance (PRRC)
UDI/Medical Devices Registration Module
The UDI Module is used to register all medical devices. All main UDI information as well as information about old devices can be entered here. The EMDN nomenclature must be followed for the UDI data.
Notified Bodies and Certificates Module
Certificates issued by Notified Bodies are stored in this module. This applies equally to QMS and conformity assessment certificates. The module is used to enable communication between the Notified Bodies. For example, if a manufacturer withdraws an application. In addition, the status of the consultation procedures for clinical evaluations is visible here. The Summaries of Safety and Clinical Performance (SSCP) and the corresponding reports of the Notified Bodies will be publicly accessible.
Vigilance Module
Various reports can be submitted via the Vigilance Module, and it is used to report incidents:
Submission of Periodic Safety Update Report (PSUR)
Submission of Periodic Summary Reports (PSR)
Reporting of Serious Incidents and Field Safety Corrective Actions (FSCAs) and Field Safety Notices (FSNs).
FSCAs are automatically distributed to the appropriate authorities after they are reported in the Vigilance Module. FSNs are published. There will also be a function in the module to generate summary reports.
Clinical Investigations and Performance Studies Module
The Clinical Investigations and Performance Studies Module are used to manage clinical investigation and performance evaluation data. Besides, applications for clinical performance studies and trials can be submitted, as well as clinical follow-ups and post-market product changes, reports, etc.
Market Surveillance Module
This module is designed to facilitate cooperation and coordination between individual EU member states. For example, market surveillance results can be exchanged between the authorities and Notified Bodies. In addition, the reports in this module will also be made available to the public.
What´s Next for EUDAMED?
The Actor Registration Module, the UDI/Device Registration Module and the Notified Bodies Module are currently available to the public. Since December 2020, it is possible for companies to register, the two others were released in October 2021.
| Role | Number of Registrations |
| --- | --- |
| Manufacturer (MF) | 18.859 |
| Authorized Representative (AR) | 1.836 |
| Importer (IM) | 5.571 |
| System/Procedure Pack Producer (PR) | 717 |
Number of registrations in the Actor Module, as of January 2023
The three remaining modules will most likely be made available at the same time. As of January 2023, they and with that the entirety of the EUDAMED are scheduled to be operational in the second quarter of 2024. However, since there have been some postponements in the past in the case of the EUDAMED modules, it is uncertain whether the date will be adhered to for the remaining modules. It is advisable for all stakeholders, but especially for manufacturers, to work proactively on the content for the individual EUDAMED modules. Although the transition periods are linked to the activation of the modules, intensive discussion and preparation should take place earlier in order to not to fall behind later.
What can we do for you? Feel free to contact us for a no-obligation demo of our MedTech solution or visit our mytracekey MedTech product page.