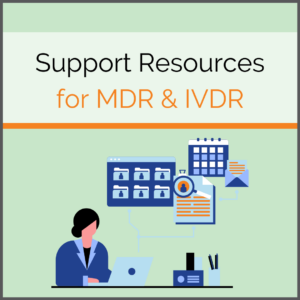 New regulations, such as the MDR and IVDR, not only provide the industry with opportunities like reorganizing and improving processes.  The industry is confronted with several hurdles as well. Companies do not have to solve these on their own. Especially online, there is now a multitude of easily accessible and free resources that support companies at least in the first steps toward compliance.
The knowledge on the internet seems endless. Even for more complex topics, for example, new regulations such as the MDR and IVDR, numerous offers explain the most frequently asked questions and contexts to the companies concerned free of charge and easily accessible. The range of formats is wide. Some break down the regulations into pleasant morsels and point out focus topics, others provide instructions on how processes can be restructured. Some videos or podcasts teach the basics, networks that point out innovations and offer uncomplicated advice, or service providers who put together consulting packages that precisely address the needs of individual companies. We have compiled a few of these (free) resources on the MDR and IVDR for you.
Podcasts and video formats for MDR/IVDR
The one-hour webinar of the European umbrella organization of MedTech Europe on MDR requirements is recommended as an introduction, especially if you are struggling with the basics of medical device regulation. (English)
Monir El Azzouzi reaches thousands of medical device manufacturers and interested parties with his podcasts/expert interviews and info posts on LinkedIn. In addition to basics such as the correct design of labels under the MDR, there is also information on more in-depth topics such as the General Safety and Performance Requirements MDR and IVDR (GSPR). Other free resources are available on his website. Such as a free MDR mini-course (English, website also in French).
Although RAPS is generally active in the field of regulatory affairs and does not only deal with medical technology, it also provides several informative podcasts with experts for the MedTech sector on its website. For example, on the topic of labeling and generally on the requirements of MDR/IVDR.
The Health Products Regulatory Authority from Ireland (HPRA) as well provides some interesting videos.
MDR&IVDR: Useful networks
GS1 also offers numerous resources, which mainly explain the basics of MDR and IVDR in connection with Unique Device Identification (UDI) in an understandable way. More specific questions can be asked directly to the experts. The GS1 GSA (Germany, Switzerland, Austria) organizations offer a Q&A session every fortnight together with GS1 Hungary. The networking offered on LinkedIn serves as an exchange between the GS1 organizations, but above all as an open offer for medical device manufacturers who want to exchange information on specific questions and problems regarding the labeling of their products.
Medical Mountains is a cluster network that primarily supports the interests of the medical technology industry in Baden-Württemberg, Germany. However, the courses and seminars (fee-based, German) are open to all interested parties.
On LinkedIn, there are not only many players in the Medtech industry who share information on their channels, but there are also numerous discussion groups on the topic of MDR/IVDR or Unique Device Identification. The largest is Elemed's "The MDR/IVDR discussion forum". Another LinkedIn group is the "Medical Device Regulation (MDR_EU)", which is managed by Regulatory Globe.
Medical devices: Informative articles
In addition to numerous fee-based continuing education offers, the Johner Institute also provides some informative technical articles (German and English), e.g., the distinction between importer and distributor in the context of MDR and IVDR or a precise definition of the Person Responsible for Regulatory Compliance (PRRC). The Johner Institute's channel on Youtube is also helpful. In addition to ten-minute information videos, entire webinars are also available here for free (German and English).
A lot of information can also be found on the official websites of the authorities. For example, the Federal Institute for Drugs and Medical Devices has compiled important basic information and FAQs on the MDR/IVDR. (German)
And above all, the pages of the European Commission contain numerous Q&As, for example on the general application and safety of the MDR, and, of course, the official information on the individual regulations.
The BSI Group covers many topics on its websites, such as the import and export of medical devices post-Brexit (UKCA) or CE markings for medical technology and in vitro diagnostics, and there are also free webinars now and then. (English)
Finally, we would like to provide you with two tools. Especially if you have questions about reclassification, the Guide to Classification of Medical Devices (English) can be useful. Another really good tool is the MDR Flowchart. The MDR requirements are broken down here very clearly.
Of course, we also support you concerning your MDR compliance. Do you have questions about unique device identification, the management of product hierarchies, or similar? Feel free to contact us or download our white paper "In 7 steps to UDI compliance".