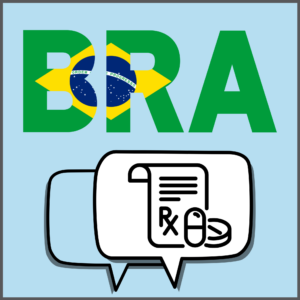 As one of the biggest economies in Latin America, Brazil is joining numerous other countries to mandate serialization in its pharmaceutical supply chain. The implementation of the regulations ensures the tracking of every event along the supply chain, where all supply chain members must be involved in the entire process. Also, these sets of requirements make Brazilian legislation much more complex to implement than, for example, European legislation.
Designation: SNCM (National Medicine Control System), RDC ANVISA No 157/2017, Law No. 5.991/1973.
Competent Authority: ANVISA (National Health Surveillance Agency).
Products: Pharma products for curative, palliative, or diagnostic purposes.
Code type: 2D Bar-Code, GS1 Data Matrix ISO/IEC 16022:2006.
Aggregation: Yes, with transport packaging identifier (IET).
Timeframe: The percentage of serialized drugs will increase gradually over the years. Since April 2022, manufacturers and import companies must have 30% of products serialized and events reported. By April 2023, it will rise to 70%. And as of April 2024, this must be 100%, including distributors and wholesalers.
The Brazilian Serialization System
The Brazilian serialization system is a track-and-trace system. Thereby, every physical movement of a drug must be reported to the authority, covering the manufacturing processes to delivery to the patient. Thus, all members must track over twelve events along the supply chain. This varies depending how many stations a drug passes through before the patient receives it. Therefore, manufacturers/importers must continually communicate with their partners throughout the supply chain (e.g., logistics, wholesalers, pharmacies, etc.). Furthermore, all direct and indirect partners within the supply chain are involved in the compliance process.
Requirements of Brazil's Serialization
All prescription medicines must be serialized (except free samples, injectable contrast agents, medicinal gases, OTC medicines, parenteral solutions from 50ml, radiopharmaceuticals, medication with government destination like serums and vaccines, and phototherapic, dynamized drugs).
All importers and manufacturers must have a "serialization plan" in the SNCM portal.
All product event reports must be submitted by supply chain stakeholders to SNCM.
The four phases of the ANVISA Brazil Policy
In 2016, ANVISA signed the National Medicine Control System (SNCM) into law (Law No. 13.410). It determined the serialization requirements and the four-phase implementation timelines of Brazil's pharmaceutical supply chain.
Phase 1 – December 2016: Regulation phase went into effect.
Phase 2 – September 2017: Experimental phase started, which kicked off a one-year pilot phase.
Phase 3 – September 2018 to May 2019: Evaluation phase of pilot as well as finalization of technical guidelines.
Phase 4 – May 2019 to May 2022: Implementation phase includes a unit-level serialization.
The Brazilian Serialization Code
The IUM (Unique Medicine Identifier) provides a unique identifier per individual package and an identifier for the transport package IET (Identificador de Embalagem de Transporte). Moreover, it applies to the respective transport package and links to all IUM (aggregation). The GS1 DataMatrix 2D bar code symbol should encode the following data that makes up the IUM in this order:
I ‐ GTIN ‐ Global Trade Item Number (not mandatory as not part of IUM)
II ‐ ANVISA Medicine Registry Number
III ‐ Unique Serial Number (up to 20 characters, generated by pseudo-random number generator, not GTIN link)
IV ‐ Expiration Date
V ‐ Lot / Batch Number
Every pharmaceutical manufacturer not located in Brazil can delegate the serialization and reporting task to a CMO or trading partner in Brazil, which must be registered with SNCM.
Regulatory Updates and Outlook
On July 14, 2021, there was a proposal to amend Law No. 11,903/2009, which "provides for the tracking of the production and consumption of medicines by means of technology for the capture, storage, and electronic transmission of data," due to impacts of the pandemic. Thereupon, on December 15, 2021, the Senate approved the law proposal to extend the deadline for implementation of the SNCM and postpone the traceability deadline by three years. Ultimately, as of June 29, 2022, the request No. 118/2022 was approved, which requests the declaration of the harmfulness of Bill No. 2.552 of 2021. Since the legislative process usually takes time, it will be a while for the amendments to take effect.
What's the most important takeaway? The clock is still ticking, and you should continue preparing. Coordinate with your supply chain partners, register your products with ANIVISA, acquire access to the SNCM portal, and upload the reporting data. Particularly experienced serialization providers can supply the required know-how and software to accomplish your transition and to fulfill the new regulations.
More information about Global Compliance
[Disclaimer]
This information is only one possible interpretation of the regulations. They are also in a constant state of change, so the information in this article may be incomplete or out of date. The above article is expressly no legal advice. Please refer to the official documents for information before making any business decisions. (Status of information: July 2022)