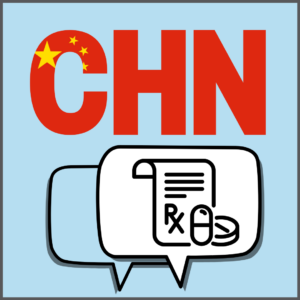 As the country with the largest population, China also has one of the largest pharmaceutical markets in the world. In 2020 nearly 35 billion U.S. dollars were generated in pharmaceutical imports, and the trend is upward. In order to counteract counterfeiting and protect patients, the regulations of pharma serialization in China were adjusted in the same year. The increasing age average and improving medical care offers opportunities for foreign drug manufacturers to expand into the Chinese market. The new regulations could help, as they are similar to other international standards.
Title: NMPA Announcement 111(2020) on the System for the Traceability for Pharmaceutical Products
Competent authority: Chinese National Medical Products Administration (NMPA).
Products: Pharmaceuticals
Code type: 1D bar code, GS1-2D Data Matrix or RFID tag
Timeframe: final implementation within 2022
Drug manufacturers who want to supply the Chinese market must overcome some hurdles beforehand. For example, documents are only provided in the local language. This makes it difficult for small and medium-sized companies to understand and comply with the requirements. In addition, the responsible Chinese authority, the National Medical Products Administration (NMPA), is reluctant to set an exact deadline, as the serialization project has been delayed several times in recent years. Currently, only a compliance date during 2022 is known. From this point onwards, drugs must be traceable by a product identification code. This will consist of the drug identification code and a unique serial number.
Code requirements
Currently, it is planned to allow two different serialization procedures. The system introduced in 2015 will remain in place and will be supplemented by a refurbished one. In the previous system, marketing authorization holders (MAHs) had to request serialization codes from the government. This is a 20-digit numbering code called the China Drug Electronic Administration Code (eCode), which consists of different segments, each consisting of coded serial numbers. As a result, only a small portion of the serial numbers are randomly generated, so anti-counterfeiting does not result from randomization. In the new regulation for drug traceability in China, the government is no longer the issuer for serial numbers. Instead, manufacturers and pharmaceutical serialization providers must comply to a new concept for serial number assignment. A concept is seen as compliant if the new regulation of the China National Drug Code (CNDC) is followed. It is based on ISO/IEC 15459, has 14 digits and is similar to the GS1 Global Trade Item Number (GTIN) standard. However, this code can be assigned not only by GS1, but also by other issuing bodies that adhere to the relevant ISO. Thus, the responsibility for creating a traceability system is placed on the MAHs and manufacturers.
The old, as well as the new code, consists of a product identification code. This must provide human and machine-readable information about the generic drug name, formulation, license holder, manufacturer, package specification, specification, and dosage form.
What is required for Chinese packaging?
As in other regions, the product identification code on a Chinese package must be machine and human-readable. Only one of the two permitted codes must be selected and applied to the package. The machine-readable eCode is a one-dimensional barcode. In human-readable form, it is alphanumeric, also contains symbols and can consist of up to 128 characters. In contrast, the updated China National Drug Code (CNDC) is one or two-dimensional for machines and alphanumeric for humans. There is also the special feature that the CNDC can make use of an RFID tag for machine-readability. Additionally, both codes can contain expiration date, production date, batch and serial number and MAH information.
Where do we go from here?
With the vague deadline and specifications continuing to change, it remains important to keep an eye on announcements from the Chinese National Medical Products Administration (NMPA). A quick adjustment to upcoming implementations could become essential here. Manufacturers should therefore be vigilant about future developments. An experienced pharmaceutical serialization provider would be able to assist in meeting changing regulations and offer support throughout the process.
[Disclaimer.]
This information is only one possible interpretation of the regulations. They are also constantly changing, so the information in this article may be incomplete or out of date. The above article is expressly not legal advice. Please consult the official documents for more information before making any business decisions. (Status of information: May 2022)