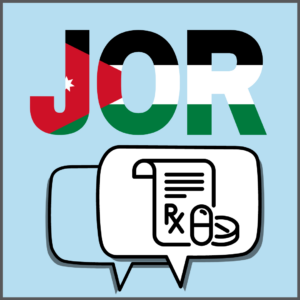 In order to make national supply chains in the healthcare system more efficient and secure, Jordan is currently expanding its serialization system. Since 2018, every pharmaceutical product must be provided with a DataMatrix. By 2020, these products should be labeled with a DataMatrix and additionally need to be serialized. However, the deadline has been postponed several times, which means that this requirement will now be implemented by September 30, 2023. What is the exact timeline of this postponement and what are the product code requirements for pharma serialization in Jordan? We have summarized the most important information.
Title: Identification and Bar coding of Medicinal Products for Human Use.
Competent authority: Jordan Food & Drug Administration (JFDA).
Products: All pharmaceutical products
Code type: GS1-2D DataMatrix with Global Trade Item Number (GTIN)
Timeline
To avoid overburdening manufacturers and authorities, it is reasonable to implement pharma serialization in several steps. After the announcement in 2017, Jordan has initiated a transition period as a first step of this project. A familiarization period took place from June 01, 2017 to June 30, 2018, during which 1D linear and 2D DataMatrix codes were allowed for secondary packaging. At this time, serialization was not yet required. Between July 01, 2018, and the end of 2019, the options to use a 1D linear code were also removed. The next step was to implement serialization of 2D codes. The entire Jordanian Track & Trace system was thus supposed to be up and running by the beginning of 2020. However, this deadline has been postponed several times and the deadline for the full implementation of DataMatrix including serialization is currently June 30, 2023.
Code Requirements
The code requirements for pharma serialization in Jordan are based on GS1 standards. It consists of the Global Trade Item Number (GTIN), the batch number, the expiry date, and the serial number. There are also corresponding requirements for the individual aspects:
GTIN: Maximum 14-digit code for unique identification of products at the global level.
Batch number: Number to distinguish the batch, may contain a maximum of 20 alphanumeric characters.
Expiration date: Refers to the date on which the product is to be used at the latest. Represented in YYMMDD, where YY stands for year, MM for month and DD for day.
Serial number: This code identifies the individual units of a product when combined with a GTIN. The length of the serial number is variable and can contain up to 20 alphanumeric characters.
However, the serial number is not mandatory until the final serialization of the pharmaceutical products. Since the corresponding deadline has been postponed to September 30, 2023, it remains optional until then.
If you are looking for a suitable serialization provider to meet global requirements, please contact us. We are happy to answer your questions or are available for a consultation.
You can also take a look at our other articles dedicated to national regulations:
[Disclaimer]
This information is only one possible interpretation of the regulations. They are also in a constant state of change, so the information in this article may be incomplete or out of date. The above article is expressly no legal advice. Please refer to the official documents for information before making any business decisions. (Status of information: October 2023)