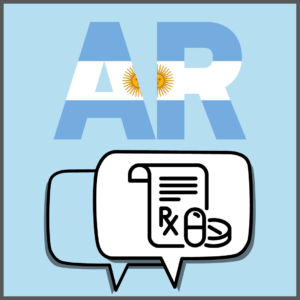 More and more countries are introducing regulations for the serialization of pharmaceuticals. South America is no exception. With around 422 million inhabitants, the continent has a population similar to the European Union and, with its emerging markets, is developing into an attractive market for exporters. Following our article on serialization in Brazil, here we summarize the regulations of Argentina.
Designation: Resolution 435/2011, Argentina National Drug Traceability System.
Competent Authorities: Ministry of Health (MoH) and National Administration of Drugs, Food and Medical Technology of Argentina (ANMAT).
Products: Prescription pharmaceutical products
Code type: GTIN or equivalent issued by ANMAT
Aggregation: No, aggregation is not mandatory but strongly recommended
Timeframe: Beginning March 1, 2015, certain prescription drugs became subject to serialization in four phases by August 30 of the same year.
The Argentine Serialization System
Pharma serialization in Argentina is a track and trace system. It ensures that each drug is tracked from the manufacturer or importer to the patient. At each step of the supply chain, the tracking of the medication must be confirmed in real time by the central database of ANMAT. Moreover, aggregation is not necessary. However, they recommend simplifying the logistics of deliveries.
General Requirements
Commercially distributed pharmaceuticals must first be reviewed and approved by ANMAT. Approved active ingredients are then registered in the Registro de Especialidades Medicinales (REM). These lists include antibiotics, insulin, coagulation factors, a wide range of cardiovascular drugs, and drugs for treating the central nervous system, including antidepressants, antipsychotics, epilepsy, and Parkinson's disease. These products can only be registered and imported by laboratories with ANMAT approval.
The Four Phases of the ANMAT Directive
In 2015, serializing various drugs became mandatory in a comparatively short time. The individual phases stand for lists published by ANMAT with the active ingredients to be serialized.
Phase 1 – March 1, 2015
Phase 2 – April 30, 2015
Phase 3 – June 30, 2015
Phase 4 – August 30, 2015
The Argentine Serialization Code
Bar codes for pharma serialization in Argentina are Global Trade Item Number (GTIN) or similar codes issued by ANMAT. GTINs consists of up to 20 alphanumeric characters and include the expiration date, lot number, and serial number. The machine-readable data carrier shall follow the GS1 standards. Acceptable formats are GS1-128, RFID, and DataMatrix.
[Disclaimer]
This information is only one possible interpretation of the regulations. They are also in a constant state of change, so the information in this article may be incomplete or out of date. The above article is expressly no legal advice. Please refer to the official documents for information before making any business decisions. (Status of information: October 2022)