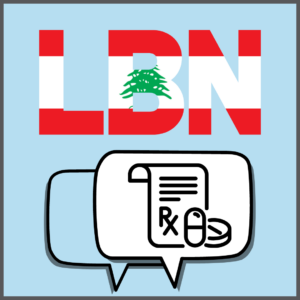 Lebanon is in the process of expanding its existing track-and-trace system for the pharmaceutical sector. Since January 1, 2019, it has been mandatory to equip imported pharmaceuticals with a 2D DataMatrix barcode for tracking purposes. As of January 1, 2023, this requirement now also exists for domestic pharmaceuticals. We have summarized the key information on Lebanese regulation here.
Competent Authority: Lebanon's Ministry of Public Health
Products: All medicines except free medical samples, serum products and injections without cartons
Code type: GS1 – 2D DataMatrix
Timeframe: January 1, 2019, for imported medicines, January 1, 2023, for domestically produced medicines
General Requirements
On December 14, 2017, it was decided by the Lebanese Ministry of Public Health to label medicines with a 2D barcode in the future. The aim, as with other track-and-trace systems, is to ensure tracking along the supply chain to prevent counterfeit medicines. In addition, the supply of pharmaceuticals should become more secure to protect patients. The available product information is entered and stored by foreign and domestic manufacturers in the designated database, MediTrack. Transaction data can also be accessed here.
The Lebanese Barcode
Lebanon's barcode is represented as a 2D DataMatrix in the GS1 standard and consists of a Global Trade Item Number (GTIN), the expiration date and a batch number. The GTIN is used to identify the pharmaceuticals and is unique for each product. Thanks to the code, every step in the supply chain can be traced and is stored in the MediTrack database. Furthermore, the World Health Organization (WHO) has promised Lebanon to equip all pharmacies with 2D barcode scanners free of charge.
Four MediTrack Phases
To implement serialization in Lebanon through MediTrack, the process was divided into four phases:
Phase 1 from 2016 to 2020: barcodes were brought up to GS1 standards. In addition, the system was tested in the department for pharmacies of the Ministry of Public Health.
Phase 2 from 2020 to 2021: Serialization for imported medicines and vaccinations became mandatory, that had to be previously registered. Technical guidelines were also published.
Phase 3 from 2021 to 2022: MediTrack will be introduced in community and hospital pharmacies, and pharmaceutical donations will also be tracked. Primary Healthcare Centers will receive the MediTrack system as well.
Phase 4 from 2022 to 2023: Domestic manufacturers will be involved in serialization in Lebanon.
You can also take a look at our other articles dedicated to national regulations:
[Disclaimer]
This information is only one possible interpretation of the regulations. They are also in a constant state of change, so the information in this article may be incomplete or out of date. The above article is expressly no legal advice. Please refer to the official documents for information before making any business decisions. (Status of information: January 2023)