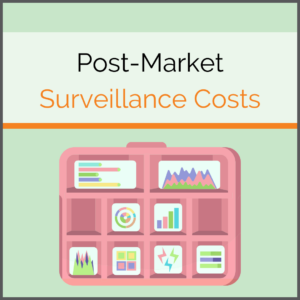 Even with intensively tested medical devices, unknown side effects can occur among users. If such an incident does occur, it must be documented according to Article 80(2) of the Medical Device Regulation (MDR). The EUDAMED database is the contact point for this respective documentation. In addition, there is a reporting obligation for incidents that have been prevented. Data collected in this way is then used to create reports for Post-Market Surveillance (PMS).
But what exactly is Post-Market Surveillance? What are the differences between proactive and reactive PMS, and how much does such a system cost a manufacturer?
What is Post-Market Surveillance
Post-market surveillance in the medical device industry refers to the systematic process of monitoring and evaluating medical devices after they have been approved and placed on the market. Thus, it is a critical aspect of patient safety. It looks at the effectiveness of devices throughout their life cycle. PMS involves collecting and analyzing real-world data on device performance. Adverse events and user feedback receive particular attention. By proactively identifying, and addressing these issues, regulators and manufacturers can take necessary actions. Such as product recalls, improved safety notices, or product enhancements. Patient safety and product quality are thus refined even further. PMS is a continuous and iterative process that includes collaboration between manufacturers, medical professionals, and regulators. Through this effective monitoring, the MedTech industry can maintain high safety and quality standards for medical devices.
Proactive and reactive PMS
There are two approaches to post-market surveillance. They are divided into proactive and reactive PMS. Both monitor the safety and performance of medical devices after their introduction to the market. PMS involves planned and systematic activities initiated by the medical device manufacturer or regulatory agencies. Data on performance and safety are continuously collected and evaluated. The goal is to identify and address potential problems before they lead to significant difficulties or adverse events. Major features of proactive monitoring are:
Active data collection: manufacturers actively collect data from multiple sources, such as clinical trials, registries, and real-world evidence.
Risk assessments:

regular risk assessments based on the collected data are designed to identify trends or patterns that may indicate safety concerns or performance issues.

Signal detection:

manufacturers use statistical methods and algorithms to detect signals or early warning signs of potential problems with the medical device.

Periodic Reporting: proactive surveillance involves planned and systematic activities initiated by the medical device manufacturer or regulatory agencies.
Reports of adverse events, safety concerns, or performance issues observed in the use of medical devices trigger reactive monitoring. The focus is to investigate specific incidents that have already occurred.
The main features of reactive monitoring are:
Passive data collection: unlike proactive monitoring, reactive relies on passive reporting of adverse events or problems by healthcare professionals and patients.
Event-driven investigations:

when a potential problem is reported, manufacturers and regulators investigate the issue to determine the cause, extent, and potential impact on patient safety.

Complaint handling:

complaints related to device performance are carefully reviewed and analyzed to understand recurring issues.

Rapid response: depending on the severity of the issue, manufacturers may need to take immediate action, such as safety alerts, recalls, or corrective actions.
Cost of a PMS system
With the introduction of the MDR, there has been increased pressure on manufacturers to maintain comprehensive post-market surveillance. In addition to expanded production costs due to inflation and numerous crises, increasing costs for a PMS are also foreseeable. The reasons for this are a greater volume of reports required by the MDR and a higher frequency. Another aspect influencing costs is the class of medical devices manufactured. Classes with higher risk, i.e., IIa, IIb, and III, require a larger budget than class I. In the case of a post-market surveillance system, costs correspond to 2-3% of the manufacturer's annual revenue. There may also be additional expenses such as software development, development costs related to the product, or training needs. In total post-market surveillance can cost 5-10% of annual revenue. Although variations depend on the individual product and manufacturer, high-risk products are generally even more expensive for manufacturers.
As a provider of solutions for RegTech industries, tracekey can also assist you as a manufacturer in this regard. For information and support, feel free to contact us.