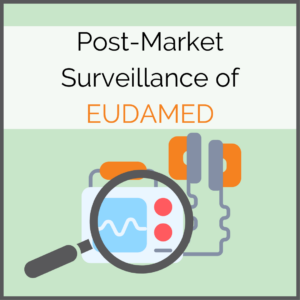 According to the Medical Device Regulation (MDR) and the In-vitro-Diagnostic Device Regulation (IVDR), EUDAMED's Post-Market Surveillance refers to all activities in which data is proactively collected and information is gathered about products that are already on the market. The resulting information should be available in such a way that necessary corrective or preventive measurements can be carried out immediately. Medical devices will thus continue to be monitored on a day-to-day basis to uncover previously unknown risks.
Tracking of medical devices in the European Union takes place thanks to the UDI module of EUDAMED. Tracking makes it possible, for example, to selectively remove defective products from the market after they have been released. In this way, patient safety is increased, and product counterfeiting can also be reduced. Tracking also helps with the logistics of healthcare facilities and environmentally sound disposal. But what does EUDAMED's Post-Market Surveillance mean in detail and what requirements does the MDR have for it and for tracking?
Post-Market Surveillance
Before medical devices are placed on the market, they are tested by manufacturers, authorities, and notified bodies for their suitability and safety. Unfortunately, not every defect that can occur during daily use also occurs in the laboratory. For these cases, there is EUDAMED's Post-Market Surveillance. Specifically, it involves:
systematically identify risks during use in practice
monitor the performance of the product in practice
detect product defects and safety deficiencies
constantly update the risk-benefit assessment
rapid initiation of necessary measures, such as recalls
Post-Market Clinical Follow-Up
Furthermore, the MDR added the Post-Market Clinical Follow-Up (PMCF) for medical devices. This additional precautionary measurement is part of the standard procedure for manufacturers to maintain compliance. This proactively collects clinical data, whereas PMS collects data reactively and is often reported by customers. A PMCF study is a clinical trial and is conducted, for example, when PMS identifies anomalies, or if the classification of a product should change.
Vigilance
EUDAMED's Post-Market Surveillance is part of the module together with the Vigilance system. Vigilance revolves around the handling of serious incidents and safety corrective actions in the practice of medical devices. Manufacturers are required to report these incidents electronically, including their statistically significant frequency, and analyze these reports. The electronic reporting system is also linked to the UDI database, which means that known risks can always be viewed by patients.
MDR Requirements
According to the MDR, medical device manufacturers should "plan, establish, document, implement, maintain, and update a Post-Market Surveillance system." Among other things, this plan should identify the extent to which manufacturers will collect and analyze Post-Market Surveillance data and how that data will be evaluated. It also calls for a plan for communication with competent authorities, notified bodies, economic operators, and users. This is to ensure that the process for taking corrective actions, such as recalls, is as straightforward and quick as possible. The requirements for the IVDR are very similar. However, in the case of in-vitro diagnostics, the guarantee of clinical evidence is also relevant.
Medical Device Tracking
To ensure EUDAMED's Post-Market Surveillance, a good traceability of the products, i.e., track & trace, is necessary. This means that every step in the life cycle of a medical device must be traceable. From manufacturers, to authorized representatives, importers, and third-party suppliers, to distributors, all parties in the supply chain are involved in tracking. Data and products are passed from stakeholder to stakeholder until they reach the patient. It is precisely this closed-loop traceability that is required by the MDR. Communication and data exchange between all parties involved should function flawlessly. In fact, they must undergo audits to demonstrate their compliance and show that they are adhering to the product traceability requirements. Tracking is made possible by EUDAMED's UDI module. This gives each medical device its UDI PI (Product Identifier), allowing batches to be tracked. This contains:
lot number
expiration date
serial number of the specific product