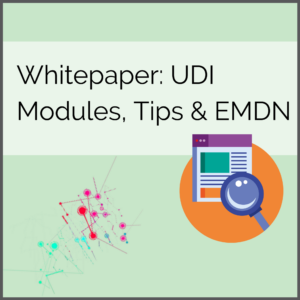 Whitepaper: The UDI module of EUDAMED – 10 tips about product data attributes
Our whitepaper describes which data you have to store for your products in EUDAMED, respectively in the UDI module. We go into the differences between Basic UDI-DI and UDI-DI, explain the basic function of the UDI also apart from EUDAMED, briefly introduce the EMDN and give you numerous tips on how to use the database and prepare your data.
When it comes to Unique Device Identification (UDI), many medical device manufacturers initially think of the new label design and the deadlines by which the UDI must be applied to the medical devices. However, the topic goes much deeper. After all, the UDI module of EUDAMED, which has also been available for use since 2021, is a kind of the centerpiece of EUDAMED. In particular, the large volume of data that must be entered into the European database for medical devices, some of which are mandatory and some of which are optional, presents companies with a major challenge.
In our whitepaper "The UDI module of EUDAMED – incl. 10 tips to meet MDR requirements + EMDN overview" we answer the following questions:
Which product data is mandatory to be stored in the UDI module?
Which data is optional to be stored in the UDI module?
How does the entry of Basic UDI-DI and UDI-DI differ?
What is the UDI used for?
What are the special requirements for which product classes or types?
How do I start using the UDI module in EUDAMED?
How does the new European Medical Device Nomenclature work?
What needs to be considered for system and procedure packs?
What do I have to consider regarding the different roles I can use to log into the EUDAMED database?
What options do I have for storing the data of my medical devices in EUDAMED? And how do they differ from each other?
We also give you 10 tips to make the practical handling of the UDI module easier.
Feel free to download our whitepaper on the correct use of the EUDAMED UDI module. If you have any further questions, please do not hesitate to contact us.
For example, you can easily arrange a non-binding meeting with us via our calendar.