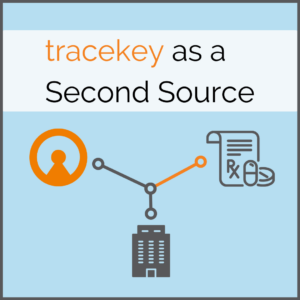 There are many reasons for marketing authorization holders (MAH) or contract manufacturers (CMO) to inevitably deal with serialization during ongoing operations. May it be to increase production capacity, to connect to a new business partner or any other of many possible reasons. These new conditions can raise some questions. Do I simply increase capacity with my current provider? Am I satisfied with my current provider? How costly would it be to switch if I'm not? But a complete switch is not necessarily required. Our software solution can also be used as to complement an existing system, as second source serialization.
The connection to a second source provider is uncomplicated and simple. We take care of everything and ensure that there are no interruptions in your production. This also simplifies a provider switch afterwards and makes it as uncomplicated as possible. There are no downtimes, and the production can continue seamlessly. We take care of the tracekey onboarding process for the most part, which means that there is no changeover stress for new customers and a smooth connection to our software solution is guaranteed. In the event of actual dissatisfaction with the current provider, this makes it even easier to switch the entire serialization solution.
When does a second provider make sense?
We at tracekey are very proud of our highly acclaimed support and our years of experience in the RegTech industry. These facts are reason enough to choose us as your provider for pharma serialization. However, there are also reasons to switch, that are independent of any provider why tracekey can be a valuable and efficient addition to your serialization process. Second source serialization enables more independence, as it results in better scalability of capacities and thus costs. Your company gains flexibility as a result. It may be that one vendor only has very large pools, even though only a small number of serial numbers are needed for a new production line. Another supplier, with smaller pools, could be useful here and thus save costs for the company.
Furthermore, different providers have different focuses and specializations. Depending on the requirements, serialization can be adapted and scaled to individual needs. For example, tracekey has many connectors, which means that a connection to common serialization providers can be established smoothly. In practice, tracekey as a Level 4/5 provider, can connect directly to your production lines at Level 2 and Level 3, as well as to all common serialization providers. Thanks to these connectors, all levels of pharma serialization are compatible with mytracekeyPHARMA, and business partners can easily be complemented.
Onboarding process
At first glance, connecting to a second provider sounds like it would take a lot of time and effort. However, this is not the case. We are aware that certain risks are involved, which is why our onboarding process is completely catered towards the requirements and preferences of our customers. To give you an idea of what the onboarding process can look like, here is an overview of the common steps for second source serialization:
When new customers approach us, we first make them an offer after they have expressed their respective requirements and preferences. What can tracekey offer? What does the potential customer need? It is decided how tracekey can address the requirements and which steps should possibly be adapted. Here, the agile way of working at tracekey is of great advantage. We can thus implement desired changes and additional requirements particularly quickly.
If the offer is satisfactory and accepted, the onboarding can begin soon. For this purpose, an individual project plan for the implementation of mytracekeyPHARMA is created. An important part of this is the schedule, in which the processes and deadlines are coordinated with the customer's production planning. Usually, it takes one month to implement the connection, although this process can also take longer or shorter time. Furthermore, key persons for the serialization process are defined. This way, the future users can be trained for the corresponding workflows as part of the new customer onboarding. Additionally, the Customer Success Team is always available to customers throughout the onboarding process. It should also be mentioned that a large part of the steps during the onboarding process run in parallel. This makes it possible to get a production line or the connection to the business partner up and running especially quickly.
The most important part of each connection, regardless of whether it is a new customer connection, a connection to the authority or to the business partner, is testing in the mytracekeyPHARMA test environment, the so-called sandbox. There, all connections are first created, as well as the master data of customers, partners, and products. Within the scope of a test production or a production simulation, serial numbers are queried or generated, production files are exchanged, and authority reports are sent. tracekey also offers customers access to the entire validation documentation, including test collections and validation plans, so that they can carry out system validation themselves in the most uncomplicated way possible. All key users receive training tailored to their individual workflows.
The last step in the onboarding of second source serialization is the preparation for going live. The desired master data and all connections are copied to the production environment, and users and their roles are assigned. If desired, another performance quality test or even an end-to-end test can be performed. This ensures the functionality of the expected user flow. If all tests are successful, the work of our Customer Success Team is considered finished for this step. Of course, they are still available to our customers to answer any questions they may have. Here, the focus is on direct and customer-centred exchange: At tracekey, you always have direct contact with the Customer Success Team. In joint consultation with the customer, priorities are weighed up and processed according to urgency. In this way, we can offer the perfect support. Subsequently, help is provided specifically where it is needed. The company is now connected and can move on to daily business.
Are you looking for a serialization provider?
Do you have any upcoming projects that tracekey can help with? Second source serialization has many advantages and is a common practice in the pharmaceutical sector. Feel free to contact us for questions or a consultation.