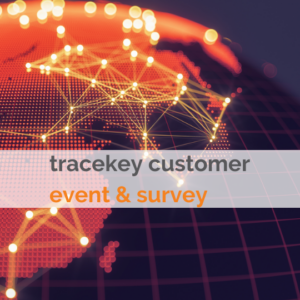 Our customers and the quality of our software solutions are of the utmost importance to us. This is why a customer satisfaction survey was conducted again this year. This way we find out how we can improve ourselves and our software and which topics are particularly important to our customers in 2022. In addition, we held another customer event to give our users the opportunity to exchange ideas directly with us and with each other.
Right at the start of 2022, we conducted our annual customer satisfaction survey. In addition, we implemented one of our customers' wishes right at the beginning of the year: another customer event. At this event, we were not only able to present our plans for the coming months in regard to new features and further development of our services, but also offer our customers a platform for direct exchange among themselves.
Top grades for the tracekey support
After the already very good results from last year, we again received consistently positive feedback. An impressive 90% of the users of our mytracekey SaaS products are (very) satisfied (4/5 or 5/5 points) with tracekey and even 97% are satisfied with the tracekey support. Mostly the speed, efficiency, and friendliness of our Customer Success Team were emphasized.  Just like in the last survey, 100% of the participants would recommend tracekey solutions to other companies. We also received praise for the regular updates of our systems.
In 2022, our customers consider topics such as alert management, serialization, and aggregation to be particularly important. They attach great importance to consistently good support, expansion into new markets and the regulations related to this, as well as the simplification of logistical processes. Furthermore, an increased focus on topics related to mytracekey MedTech is relevant for the survey participants and for the distant future the automation of serialization.
Customer Event 2022
Regardless of the topics, it was of great interest for the customers to get in contact with other people from the pharmaceutical industry. Therefore, we scheduled our second customer event for March 10, 2022. After a successful event in 2019, we switched from a live event to online this time.
EU-FMD and challenges
Within the customer event, the focus was on the ongoing implementation of the Falsified Medicines Directive (EU-FMD), as well as the resulting challenges and their possible solutions. Even though the implementation of the EU-FMD is nothing new for our customers, there are still some tasks ahead. Alert management and regular false alarms are frequently mentioned topics here. Other challenges within pharmaceutical companies were the maintenance of a business network, serialization as an ongoing responsibility, and the lack of qualified personnel. Our customers can solve many of these challenges with our help. For example, thanks to our network, we can act as a matchmaker or take over certain services through our expertise. For example, companies have less work to do in terms of adapting to new regulations.
Focus on service and customer
At the time of the previous customer event, our own service standards were already above the industry average and continue to be so. In addition, we have since seen the introduction of the tracekey Serialization Manager (TKSM). With the TKSM, customers can outsource the entire serialization process with tracekey PHARMA to us. Thanks to feedback from our customers at our customer event and the satisfaction survey, we are able to respond to and implement requirements such as these. Thus, we want to establish additional features that will reduce the complexity of the serialization process for our customers. In addition, one of our biggest topics is the gradual implementation of the UDI regulations and the expansion of our MedTech services.
After all the positive feedback at our customer event and survey, we would also like to thank you and hope to see you again soon. Next time maybe even live and in person.