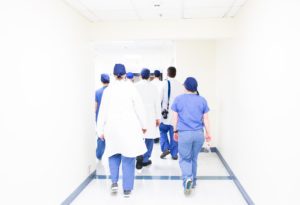 Hospitals work with a large number of Rx drugs on a daily basis, in addition, processes are closely timed. So how will the Falsified Medicines Directive affect hospital pharmacies?
The Falsified Medicines Directive (FMD) stipulates that every prescription-only drug in hospital pharmacies must be scanned and verified via the database. The Bundesverband Deutscher Krankenhausapotheken (ADKA), a federation of hospital pharmacies in Germany, criticizes these requirements as unjustified, since hospital pharmacies generally buy directly from the manufacturer and with the implementation of the FMD, several thousand serialized medicine packs would have to be verified individually every day.
Article 25 (2) of the delegated regulation grants hospital pharmacies greater freedom to decommissioning medicinal products. Decommissioning may take place at any time, but only on the condition that the drug is not sold between its delivery and the supply.
As of February, hospitals have two options for decommissioning:
The Unique Identifier (UI) information can be made available to hospital pharmacies in the form of an aggregated code so that the received goods can be decommissioned using this code.
A further option is that manufacturers deliver consolidated shipment data to the hospitals.
The pharmaceutical associations and securPharm however, criticized the latter option as it only verifies the entire delivery and leaves the individual packaging unchecked. This way counterfeits may enter the supply chain, it is feared.
In ADKA's opinion, the best solution would be for the book out to take place at the manufacturer. The suggestion: After the receipt of the delivery confirmation by the hospital pharmacy, the manufacturers themselves should directly deregister the serial numbers from the system. There is a big difference between public and hospital pharmacies. In public pharmacies, the products are sold directly to the patient and the scan is part of the delivery process. In hospital pharmacies, on the other hand, there is no direct distribution of medicines to patients.
Do you want to learn more about our data delivery solutions for hospitals?