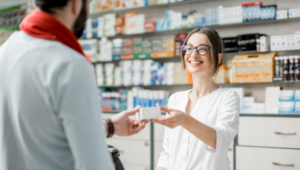 With the publication of the Delegated Regulation (EU) 2016/161 in the Official Journal of the European Union, the deadline for transposition of the new EU Counterfeiting Directive has been set. Beginning on 9.2.2019, prescription drugs must be clearly identifiable and traceable – every single package.
EU Counterfeiting Directive: Increasing drug safety for consumers
Antibiotics, anticancer and antimalarial drugs, cholesterol-lowering drugs and painkillers, and sexual enhancers are frequently counterfeited. The counterfeits are mainly sold via grey markets, usually without a prescription. The directive now aims to increase drug safety and eliminate counterfeiting mechanisms from 2019. New security features should, for example, enable wholesalers and pharmacists to obtain transparent information about the product and its supply chain. The aim is to prevent counterfeit drugs from entering the legal supply chain. Despite the security measures currently in place, counterfeit medicines are constantly being discovered in Europe. Worldwide, the number of cases has even increased significantly in recent years.
The pharmaceutical industry is facing a digital turn of an era
Serialization gives each drug a unique label in the form of a unique serial number. This serial number will appear physically, in the form of a code, on the packaging and serves as a unique identification in the combination with the GTIN, expiry date, and batch number. The digital image contains, collects, and supplies the necessary data – such as the status of whether a drug package is approved for sale. This task is a real challenge simply because of the data generated during production, trade, and output.
In addition: The changes in industry cover all business areas, almost every process is affected. Investments in hardware, software, personnel, and processes are necessary. Serialization is not an issue that a company can solve on its own since serialization is precisely about starting a network of the pharmaceutical industry that should create more transparency. As manufacturers, they are dependent on production and trade partners. Many companies, therefore, rely on the services of specialized providers such as tracekey which enable suitable solutions for managing and exchanging the required data between relevant parties.
Read how the FMD affects pharmacies
Read how the FMD affects hospitals