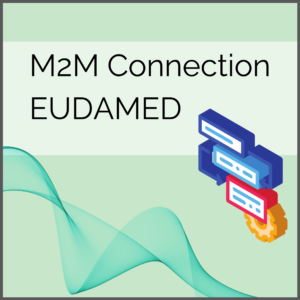 Are there SaaS solutions for EUDAMED? Of course, there are. For example, they can provide a convenient way to load larger amounts of data into the EUDAMED UDI module via direct interfaces to the database (M2M), keep it up-to-date, and cover topics such as versioning, audit trail, or validation.
There are various ways of exchanging data with EUDAMED. Besides the manual entry and upload variants, keyword bulk upload, there is another one. The machine-to-machine (M2M) connection to the European database is intended to simplify the exchange of data between EUDAMED and the economic operators. The M2M connection creates a direct interface between EUDAMED and the economic operators' internal data repositories. These are mostly software providers that specifically offer data management in the context of the EU MDR or ERP systems from the medical technology sector that provides modules for the exchange with EUDAMED.
How does a machine-to-machine interface to EUDAMED work?
The M2M connection offers a possibility across all sectors of the economy to enable the direct and automated exchange of information between different systems or terminals.
In the case of EUDAMED, product data can thus be exchanged directly with the UDI module. Instead of maintaining them in lists and uploading them to EUDAMED via an XML upload, i.e. a bulk upload, a SaaS system, for example, communicates directly with the database via an M2M interface. This is advantageous both for the creation of new data records and for the ongoing updating and management of product data.
The advantages of an M2M interface for quality management
An M2M connection has numerous advantages over other data upload options. For example, the data is all collected and validated in one place. Once they are ready for upload, they can be played into EUDAMED via a secure connection. The biggest advantages are the complete documentation of the data entries in EUDAMED, including audit trail and correct versioning, as well as the easy way to manage even very large amounts of data securely and clearly. This means that there are no loose ends and no question marks when it is later necessary to trace which data from which sources were maintained in EUDAMED. Depending on the internal quality management requirements of the medical device manufacturer, a SaaS solution for EUDAMED with a direct interface is the best solution to meet all obligations and requirements.
EUDAMED SaaS solution: mytracekey MedTech
What is our SaaS solution for EUDAMED? There are currently only a few providers that offer a direct interface (M2M) to EUDAMED or plan to do so. With mytracekey MedTech, it is possible to first load all existing data into the system via a simple Excel import and to be able to clearly supplement all missing information there. After an automatic check of whether the data is complete and meets the formal requirements of EUDAMED, the product data can then be sent to EUDAMED via automated reporting. Larger amounts of data, whether for updating or initial upload, can thus be brought into EUDAMED with little effort via our SaaS solution. Our system communicates directly with the UDI module via an M2M interface. Problems with versioning or documentation of data management are thus eliminated right from the start.