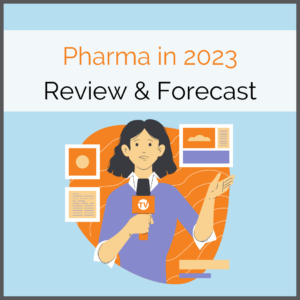 The year 2022 was an eventful one for the pharmaceutical industry. Be it the further introduction of track & trace systems around the world, such as Tatmeen in the United Arab Emirates, or the entry of digital health technologies, such as telemedicine, into everyday practice. In this article, we have summarized the most important developments in 2022 and emerging trends for 2023 for you.
New regulations in Kyrgyzstan, Kazakhstan, and Australia will be discussed, as well as the German Supply Chain Act. In other articles, we have already presented the changing requirements of the U.S. Drug Supply Chain Security Act (DSCSA) and the expansion of Lebanon's track-and-trace system. Besides these topics, we would also like to inform you about developments in business branches such as digital health technology, personalized medicine, and supply chain operations.
Global Regulations
The Central Asian country of Kyrgyzstan plans to launch a national serialization system in 2023 with the help of three voluntary implementation waves from January to August. From September 2023 on, serialization will become obligatory for all imported pharmaceuticals. Products with a country label for other markets, e.g., the Eurasian Economic Union (EAEU), can continue to be distributed for another two years. After that time, the labeling must fully comply with Kyrgyzstan's regulatory requirements. In Kazakhstan, serialization of all medicines will become mandatory from June 2023 onwards. Like Kyrgyzstan, the track-and-trace system was gradually introduced. In addition to these two EAEU countries, Australia has prepared the road for the serialization of imported medicine. There, the Therapeutic Products (Medicines – Standard for Serialization and Data Matrix Codes) Regulation (TGO 106) came into force on 1 January 2023.
German Supply Chain Law
On 1 January 2023, the Act on Corporate Due Diligence in Supply Chains, known as the Supply Chain Act, came into force in Germany. The law requires companies to demonstrate that they act ethically and sustainably. They can be held responsible for monitoring global supply chains and ensuring that human rights are respected, fair wages are paid, and child labour and environmental damages are prevented. In the past, China attracted negative attention regarding these issues. As China is one of the major exporters of pharmaceuticals, this law could also be interesting for the pharmaceutical industry.
Global Supply Bottlenecks
Since the start of the Corona pandemic, there have been supply bottlenecks in many places around the world. These also relate to drugs manufactured abroad or raw materials urgently needed for production. In 2022, this problem was aggravated by the war in Ukraine and the sudden abolition of China's Zero-Covid policy. With such geopolitical risks, it is not surprising that investors are hesitant. Subsequently, the number of mergers and acquisitions (M & As) is decreasing in the pharmaceutical industry. The relocation of global production sites back to their home countries, e.g., from China to Europe, continues to be controversially discussed in this context. However, money and lots of effort are needed to promote domestic production. In addition, it will be necessary to improve the wage-cost ratio for companies, gain more regulatory transparency about existing supply chains and create further incentives.
Virtual Doctor Appointments
Digital health solutions, such as telemedicine, have also been on the rise since the start of the Covid-19 pandemic. Pharmaceutical investments in this line of business continue to increase massively, as the ability to conduct physician consultations and checkups virtually brings several advantages. For example, less protective equipment is needed, and patients are much less likely to contract Covid-19 during a doctor's visit. This fact is particularly important for chronically ill, immunocompromised, or cautious individuals. Flexibility and convenience are other points that may be in favor.
Focus on Oncology and CNS
A trend that started already before 2022 and is further emerging is the focus of the pharmaceutical industry on the therapeutic areas of oncology and the central nervous system (CNS). The driving force in the field of oncology is the patients themselves. By joining support groups or larger communities, people suffering from rarer cancers finally get a voice. Considering the interplay of an aging society and the frequency of neurodegenerative diseases, this also speaks very clearly for an increasing need for therapeutic options.
Emerging Trends in Pharma 2023
2023 could become a very exciting year for manufacturers and logisticians. Precision medicine continues to advance and the desire for greater sustainability and efficiency in supply chain processes is omnipresent. In addition, there is likely to be more investment in the research and production of "advanced therapy medicinal products (ATMPs)". This is a business branch where large profits can be expected.
The production, storage, and distribution of ATMPs, which among others include gene- and cell-based therapies, pose new challenges for manufacturers and logisticians. Each of these drugs is tailored to specific patients. Specialized facilities are, therefore, needed for lower product volumes while maintaining the desire for high quality. In addition, ATMPs are more sensitive to temperature changes and have a shorter shelf life. These challenges call for sophisticated ideas and modern technologies to bring more quality, transparency, and efficiency to the supply chain.
Geopolitical developments, such as rising inflation, are also pushing pharmaceutical companies to make their supply chains more affordable, sustainable, and efficient. That includes more diversification of supply chains, e.g., to be more independent from the Chinese market (China Plus One strategy). Artificial intelligence (AIs) or smart software solutions will be more strongly integrated into supply chain (risk) management and manual processes further digitized. Pharmaceutical companies are also investing more money in cybersecurity measures (Zero Trust model). That is because many pharmaceutical supply chains have been affected by cyber-attacks since the Covid-19 vaccine race. GlobalData reported a 30 % increase in the recruitment of cybersecurity professionals in Q3 2022 compared to Q3 2021.
A final interesting development is an increasing demand for veterinary medicine. With many people acquiring pets during the Covid-19 pandemic, this market will continue to show strong growth. Pharmaceutical manufacturers looking to expand their product portfolio might be interested in gaining a foothold here.