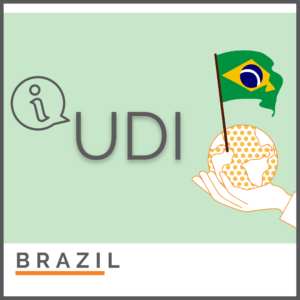 At the beginning of 2021, Brazil started to finally implement its UDI regulations. This is being done in stages with the involvement of various stakeholders. As with pharmaceuticals, Anvisa is the responsible authority. It is responsible for enacting the appropriate legislation, it reviews approvals for medical devices, and it monitors manufacturers' quality management systems to ensure that they comply with the regulations.
Authority: Anvisa UDI Database
Timeframe: Launched in 2018, the regulation has been available for assessment since 5th February 2021.


– May 2021: the agenda for the public consultation and impact analysis of the UDI Regulation is available
– May-July 2021: impact analysis
– August-October 2021: public consultation
– November-December 2021: Evaluation of the submitted consultations
– December 2021: Evaluation and publication of the Resolution of the Collegiate Board of Directors (RDC) on UDI by DICOL (Anvisa Directors).
Title: Collegiate Board Resolution on Medical Devices Unique Identification System (UDI System).
Official reference sources: GS1, HIBCC, ICCBBA
The Anvisa regulations require all medical devices to be uniquely identifiable and traceable. The regulation applies to all medical devices approved by the authority. Exceptions are custom-made products and products undergoing clinical trials.
For unique identification, the products must be marked and equipped with a barcode. In addition, manufacturers must report various product characteristics to the authority. But the data do not have to be serialized or aggregated.
UDI in Brazil: Product class decisive for a transition period
There are also different cut-off dates in Brazil, which are staggered according to the risk class of the product. The dates indicate the respective period that manufacturers have for their implementation after the final resolution comes into force. After the transition period, the UDI parameters must be applied on the label or directly on the medical device as well as on all higher packaging levels. Reporting the UDI to the database will only become mandatory once Anvisa issues an official notification, and the database is fully operational.
– Class IV: 2 years
– Class III: 3 years
– Class II: 4 years
– Class I: 6 years
Reusable medical devices with the UDI carrier placed directly on the device must comply with the period of their respective device class plus two years.
Data to be entered into the Anvisa UDI database in Brazil
– Mandatory: UDI-DI and issuing body, brand name, device model, or version.
– Mandatory, if applicable: UoU UDI-DI
– Optional: Reference and/or the catalogue number and additional product description.
Contact information:
– Mandatory: Manufacturer's name and address.
– Optional: URL for additional information, e.g. electronic instructions for use
Packaging and status of the product:
– Mandatory: UDI-DI, expiry date, and quantity per packaging configuration.
Licensing, classification & nomenclature:
– Mandatory: risk class, GMDN code, and Anvisa product code name.
Medical device characteristics:
Mandatory
– How is the product controlled?
– Labelling as single-use?
– Labelling as sterile?
– Need for sterilization before use?
– Presence of human tissue and cells or animal tissue and cells?
Mandatory if applicable
– Clinical size
– Storage and handling conditions
– Maximum number of reuses
– Method of sterilization
– Critical warnings or contraindications
– Does it contain latex?
– Which MRI safety information does the labeling contain?
– Substance information
– Clinical trial number
The Unique Device Identification (UDI)
– UDI carrier
– UDI database General principles
– Rules for specific product types
A new UDI must be assigned when the following parameters are changed
– Brand name
– Device model or version
– Clinical size
– Single-use designation
– Sterile designation
– Need for sterilization before use
– Quantity per pack configuration
– Critical warnings or contraindications
[Disclaimer]
This information is only one possible interpretation of the regulations. They are also in a constant state of change, so the information in this article may be incomplete or out of date. The above article is expressly no legal advice. Please refer to the official documents for information before making any business decisions. (Status of information: November 2021)