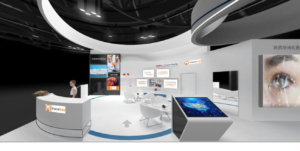 This year's China Innovation and Entrepreneur Fair (CIEF) is not only taking place as a face-to-face event in Guangzhou, but also as a digital event due to the current pandemic. Therefore, we have taken the opportunity and will be presenting tracekey solutions with our own virtual booth. 
 Date: 2020/09/23-2020/09/25
The China Innovation and Entrepreneur Fair (CIEF) is an internationally oriented fair, which aims to bring together Chinese and foreign innovative companies from all over the world. In 2019, companies from 20 countries participated, including Great Britain, Israel, South Korea, Australia, and Russia. Despite COVID-19, this year will be international again thanks to modern technology: amongst others, French, German, Canadian, and US companies are represented.
Transformation and Innovation
This year's head topic is "Digital Transformation, Innovation, and Leadership". Among others, achievements in the areas of artificial intelligence (AI), pandemic prevention, and 5G will be presented. In addition, current industry trends and the challenge of international cooperation will be discussed.
In joint cooperation, the Chinese Association of Science and Technology, the National Development and Reform Commission, the Chinese Academy of Sciences, the Chinese Academy of Engineering Sciences, the Central Committee of the Jiu-San Society, the People's Government of Guangdong Province, and the People's Government of Guangzhou City Administration organize the CIEF, which takes place once a year.
Due to this year's pandemic, the companies will not only be presenting themselves on 11,300 square meters on site. There is also a virtual trade fair for the mainly international companies to present their projects. In addition to the trade fair stands that can be visited, there will also be forums, panels, and auctions in which visitors can participate digitally and conveniently from home.
The virtual tracekey booth
At the virtual trade fair, visitors can choose from 20 exhibition halls. From AI to automotive engineering to new energies, there is a suitable hall for every area of interest. One focus will be the biopharma industry.
tracekey's virtual booth can be found at the international "Achievements of the One Road, One Belt- Countries" (The New Silk Road) hall.
We are looking forward to your visit! Just scan the code and you will be standing in front of our booth.