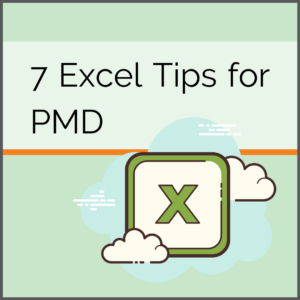 The European Commission regularly publishes documents to assist in the use of EUDAMED. Due to the complexity of EUDAMED as well as the multitude of instructional documents, it is nevertheless important to get an overview yourself. This way you will learn which aspects apply to your own company and your products. It is the only way to be sufficiently prepared for the actual use. Especially for new users, the creation of a new Basic UDI-DI can seem challenging at first. The mass of attributes that must be reported for the products shows that it is essential to deal with EUDAMED and the individual UDIs at an early stage. To help you with this, we came up with 7 tips for you, which should make it easier to maintain and compile your product master data with Excel.
When collecting data, you must keep many aspects in mind to be able to upload your products seamlessly in EUDAMED. A program like Excel can help to organize this data, thus creating an overview and facilitating the work during the later transfer. If you want to be prepared for all eventualities, however, even the creation of a suitable Excel spreadsheet can become complicated. Due to constantly expanding specifications, it can quickly happen that an Excel file becomes increasingly extensive and thus incomprehensive. For support and error prevention we have created a free Excel template, which you can download for free.
Whether you use your own spreadsheet or our tracekey Excel template, these 7 tips for data maintenance will help you collect and prepare your product master data for EUDAMED:
work with sheets:

think of the Excel file as a document folder for a collection of paper files. Sheets serve here as separators for different categories and provide order.

explain attributes in the table:

find out beforehand which information EUDAMED wants for each attribute. This helps to adhere to the EUDAMED guidelines and to have all data in the correct format directly at hand when reporting to EUDAMED later.

avoid typing errors by using dropdown menus:

it is useful to directly include predefined choices in the Excel file so that the correct format is always selected. If you then create an XML file for uploading to EUDAMED based on the Excel file, it is essential that all information is in the correct format. Because: Incorrect XML files will be rejected by EUDAMED. This can result in considerable additional work to look for the mistake causing the error. With a dropdown selection in the Excel file, these errors are avoided beforehand.

mark mandatory fields:

if there is certainty about which data is mandatory and which is not, the search can be greatly simplified by highlighting it in color.

consider language:

you should be prepared for the fact that EUDAMED currently exists only in English and, therefore, all data is accepted only in English so far.
in addition, for products with different trade names in different target markets, you must enter the respective different names.

versioning of products:

after data is collected and something changes in a product, you must change it in EUDAMED as well. If necessary, you need an additional column in the excel sheet to keep order and to keep track of the respective versioning. Please make sure to replace the current versioning with a higher version when changing the product master data.

terminology guidelines of EUDAMED:

find out which specifications EUDAMED has for naming products and attributes. Especially for the creation of an XML file, EUDAMED has exact specifications for individual data fields. Here, too, the XML upload may be rejected if incorrect values are contained in the file.
Our free tracekey Excel template has already taken these 7 tips into account and offers you a clear and simple compilation of your product master data. You can download the template here. With mytracekey MedTech you also get a suitable software solution for an M2M connection to EUDAMED and the easy management of your product master data. We offer a long-term solution for your compliance.