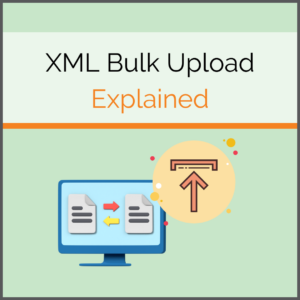 With a go-live date for the EUDAMED next year and a deadline for the Medical Devices Regulation (MDR) in the not-too-distant future, it is important to take care of your product data now. There are three ways to upload the data to EUDAMED: using an M2M interface, by manual entry, or via bulk upload of an XML file. Which option is the best depends on your intended use
While manual entry makes the most sense for a rather small number of products, a machine-to-machine (M2M) interface is only worthwhile for a very high number of UDIs. The XML bulk upload can be attractive regardless of the number of products and might therefore be a good choice for most medical technology companies. What are the advantages and disadvantages of each upload option? How exactly does an XML bulk upload work and how can tracekey support you? Our article will answer these and other questions.
Data-Upload to EUDAMED
The various upload options have their advantages and disadvantages.
A manual entry tends to be the most favorable variant at first since it can usually be carried out without the help or programs of third parties. However, it is also the slowest option since each UDI must be entered individually. In addition, a manual change is often unsuitable for quality assurance. Depending on the documentation requirement, it must be recorded where something was changed and when it did happen. With manual entries, these details must be documented by yourself.
An M2M solution is the most expensive upload option, but it has some advantages. It is particularly suitable if manufacturers need an audit trail, automatic tracking when reimporting data, or want to be shown where an error has crept into the data record. The larger the product range, the more sense an M2M solution makes.
The XML bulk upload is a good alternative to the M2M solution and the manual entry. With this, you can upload up to 300 products and their corresponding UDIs at the same time. This possibility is usually cheaper and saves time. Compared to a manual entry of product data, according to EUDAMED, the XML bulk upload can save time with as few as 15 or 20 UDIs. However, starting from a particularly large amount of data, the M2M solution beats the XML bulk upload and becomes more cost- and time-efficient. Another disadvantage compared to the M2M connection are also the sources of errors. If there is an error in the file, the XML bulk upload fails and the EUDAMED does not provide a concrete indication of the location of the error and how to solve it. The error search might cost quite a bit of time.
Preparing product data for XML bulk upload
Often, you don't have all the necessary information to start entering your products into the EUDAMED without any problems. This is also not the case with the XML bulk upload. To keep the overview even with many products, the use of a program like Excel is suitable for organizing product master data. The following points should be noted. EUDAMED is currently only available in English. Therefore, all data must also be communicated in English. In addition, for medical devices with different trade names, depending on the target market, the respective different names must be entered. Reading the specifications for the naming of products and attributes in the EUDAMED is highly recommended because there are exact specifications for the individual data fields in the medical device database for creating an XML file.
To make it easier for you to compile and maintain your product master data with Excel, we have created an Excel template. You can download it here.
Creating and uploading an XML file
Once you have collected all the product data, expertise is required to convert these data into an XML file. An XML converter from an external provider can help here. The only prerequisite for this is the prior entry of the data in an Excel spreadsheet. This information can then be uploaded to EUDAMED after conversion to an XML file.
collect product data
enter product data into Excel
convert file to XML file
upload the created XML file
What sounds like an easy implementation is, however, very complex. To illustrate, image 1 shows a screenshot of a completed Excel file. In Image 2 you can find an excerpt of an XML file for a single product.

Depending on the product, the latter file can grow significantly in size and complexity.
How tracekey can help you
With our XML converter, some disadvantages of the XML bulk upload can be avoided. The most important point is that your product data are validated before conversion to an XML file. It means that our system checks all entered data for formal correctness to prevent later incorrect uploads. If errors are found, users receive feedback with an indication of the source of the error and instructions on how to correct it. If all data are formally correct, an XML file is created, which is then ready for upload to EUDAMED.
As a competent partner at your side, we can support you in entering your UDI data into EUDAMED – MDR-compliant, time- and cost-efficient. Contact us here and together we will find the right solution for your company.
More articles about product data maintenance and data upload, can be found here: