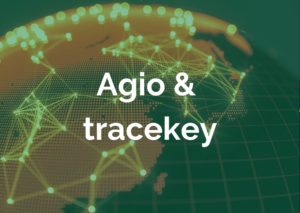 Another customer relies on our solution to meet Russian serialization requirements on time. The Indian company Agio Pharmaceuticals Ltd. is now part of the tracekey network.
We are very pleased to announce our cooperation with Agio Pharmaceuticals Ltd. Agio is a global pharmaceutical manufacturer and is active in the Russian market, among others. With Agio, another customer is using our pharmaceutical solution for import to Russia.
Our serialization solution for Russia
Although the deadline was extended to July, our software made it possible to produce according to the new Russian specifications for the first time shortly before Christmas 2019. The first truck with serialized medicines could start its journey to Russia in February. The Russian regulations are considered the most complex in the world to date. We are therefore very pleased that Agio trusts in our serialization solution.
About Agio
The Mumbai-based pharmaceutical manufacturer Agio Pharmaceuticals Ltd. was founded in 1991 and is represented with its products in over 30 countries. In addition to Russia, it is also represented in Nigeria, Senegal, Iran, India, Thailand, and Mexico. They are represented there with a total of over 365 medicines in the segments of Rx and OTC medicines, herbal, and veterinary medicine.
Our claim: Global Compliance
We pursue our global approach not only by continuously adapting our solutions to new regulations but also by making our solution available to more companies worldwide. We are therefore particularly pleased to expand our presence in India with Agio Pharmaceuticals.