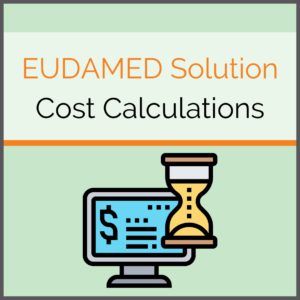 Although it still seems far away, the date of the EUDAMED deadline is getting closer and closer. However, like on Christmas, you are caught off guard by how sudden the deadline comes around the corner. Good preparation is essential to face the deadline calmly. After all, the Medical Device Regulation (MDR) and especially the new EUDAMED require much attention. How will it be used? Who in the company is dealing with it? How much time does it all take, and what are the costs of a EUDAMED solution?
This text addresses the last two questions in more detail. Because as a EUDAMED solution provider, people often ask us this question: How many UDIs does it take for an additional software solution to make sense? To answer this question, we look at how much time and money it takes to enter UDIs into EUDAMED manually, via an XML file, or with our machine-to-machine (M2M) solution. In our example, we assume that the person is entering work in quality management with a gross annual salary of 40,000 €. To this, we have added the employer's contributions for the corresponding employees amounts to approximately € 9,000 per year. We, therefore, assume a rounded gross hourly wage of €25.
Our Approach
It is not easy to say how long it will take to register a single UDI. The requirements for individual products are too different for that. For example, it depends on which safety class the device is classified in, whether it must be stored in a particular way, or whether it comes with warning labels. Depending on these choices, additional information may be required, be it certificates or descriptions of how to handle the product. Due to these differences, the time to enter a single UDI can vary between twelve and seventeen minutes. Therefore, we have decided on an average time of fifteen minutes.
Enter Data Manually
For the data to be entered, it must be collected beforehand. Since this step is necessary for every type of UDI upload, we will not include it in the calculation but rather consider it a basic fact. If we now assume an average time of fifteen minutes and personnel costs of 25 € per hour, the equation looks as follows:
| | | |
| --- | --- | --- |
| Number of UDIs | Personnel costs in Euro | Time in hours |
| 1 | 6,25 € | 0:15 |
| 10 | 62,50 € | 2:30 |
| 100 | 625,00 € | 25 |
Do consider that as employees enter the UDIs, the rest of their work lies idle. Thus, the actual personnel costs can theoretically still increase.
Upload with XML
Setting up the costs for a EUDAMED solution with XML is a bit more complex. It usually involves filling out an Excel sheet and then converting it into an XML file. Usually, this tends to be faster than manual entry and takes between one and seven minutes per UDI on average. Again, the duration depends on the characteristics of the products. If they are similar and have many overlapping attributes copying and matching them in the Excel file is easy. Therefore, this solution makes the most sense for manufacturers with many similar products. Also, if the file is incorrect, the upload to EUDAMED will fail. In the worst case, the entire file must be checked and corrected. However, one can only upload 200 UDIs per XML file at once, with an operation time of 30 minutes per file. This solution starts at 700 € for 100 UDIs.
tracekey M2M Solution
Our M2M solution and the XML upload require the same amount of time. However, it brings other advantages. For instance, it includes pre-validation. Data is checked for formal criteria, which prevents errors from occurring in the first place. There is no limitation as with the XML upload. In addition, product data is stored in a central, cloud-based database. It enables collaborative work by several people at the same time. This type of storage is beneficial for a long-term data foundation. Also, our software reminds users to report changed or new products to EUDAMED, which only requires the pushing a button. Our M2M solution is data protection compliant and follows current IT security standards. As a direct interface to EUDAMED, we're a cost-effective addition to existing systems or offer a low-cost entry point. Furthermore, our software solution includes direct support from our Customer Success Team, and software validation, which facilitating audits.
tracekey offers you the right solution for your UDI upload into EUDAMED. For questions or information, feel free to contact us.