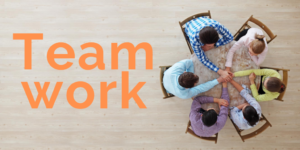 First, it was COVID-19 that sent the support staff on short-time work or unexpected vacation, now it's the summer holidays that can drastically reduce the number of employees. Especially in companies, which work project-related, this can become a problem for customers. That´s why we work as a team.
The production of the five new batches of AntiBiontex runs smoothly, the quality department is satisfied, but then something is wrong with the documents and the necessary reporting to the authorities does not work. Marie Müller-Meyer, Supply Chain Manager at PharBeyoMed Innovations, calls her responsible support person at her serialization provider but does not reach anyone. She writes an e-mail (priority: high) and receives a response a few hours later that her request can be processed in five days at the earliest. Ms. Müller-Meyer is at a loss and has no understanding of the procedure of her serialization provider. After all, the medicines have to be shipped out and taken to the pharmacies, the delivery date is urgent, the company cannot afford to postpone the delivery and neither can the patients. She asks a friend from another pharmaceutical company and finds out that she is currently in a similar situation. If she has a problem, she has only been able to reach her serialization provider via an online ticketing system for several months now.
Of course, the situation of our fictive Ms. Müller-Meyer is overly exaggerated here. But very similar situations have already occurred in recent weeks when our customers were dependent on the support of their business partners' serialization providers. In this case, our Customer Success Team will of course help as much as possible. In most cases, however, it is not possible to completely replace the support of the other providers, for example, because access rights to the other system are missing.
Project-related or in a team: What is better for the customer?
First of all, it is a big plus to have a personal contact person in the company. But if he or she is on vacation, sick, or on short-time work due to a worldwide pandemic, things can quickly get dicey. At least whenever time is short and deadlines have to be met, but nobody is available as a replacement.
In this case, it is also useless if the service provider has a support team of 50 employees, but the one employee responsible for the company is not available.
Therefore, we work as a team. It may be significantly smaller than 50, but the better organized. All our Customer Success Managers are on the same level. If one fails, another team member is there for the respective customers and takes over if something urgent should arise.
If one Customer Success Manager is ill, the rest takes over. If one of our customers has a problem with another vendor's system, we try to support. After all, we are all about the customer's success.
Why we work as a team
Of course, support teams that work on a project basis can work just as well for the customer. If someone goes on holiday, they have to make a detailed handover to their colleague. If someone drops out spontaneously, the colleagues can also take over spontaneously with well-documented customer support. Given that both are done well, the customer may not notice any difference.
Our Customer Success Managers work as a team right from the start. Daily exchange about customers and the joint work on tasks lead to the fact that even spontaneous absences of employees do not lead to any noticeable changes in the work with our customers. This makes our CS team much more flexible than teams that work on a project-related basis. What does this mean in concrete terms? Quick answers to e-mails, uncomplicated support on the phone, and no automated e-mails or problems that get stuck in the bulky ticket system.