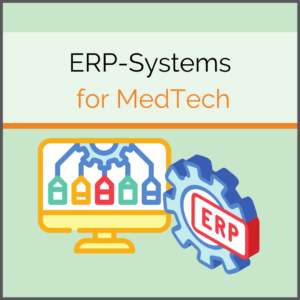 ERP (Enterprise Resource Planning) systems offer MedTech manufacturers many options for controlling their processes and planning resources. However, they do not cover some use cases such as master data management, as is required in the industry to comply with the MDR.
ERP systems offer numerous possibilities for companies to keep track of figures, data, and processes. There are both, cross-industry, and industry-specific ERP systems, which of course, have different focuses. In the meantime, cloud systems have established themselves here, as they are usually more flexible and modular than on-premise solutions.
ERP systems are specialized in the control and planning of entrepreneurial resources. These include capital, personnel, operating resources, and materials. Material requirements planning is a core competence of ERP systems. They enable manufacturers of medical devices, for example, to have all the components and materials required for the manufacturing process at the right place, at the right time, and in the required quantity.
ERP systems for medical technology manufacturers
The ERP systems offered to differ by industry, also often differ in the range of functions in general. Manufacturers, therefore, must decide in advance which are the key aspects, they need support with, and which ERP modules are the most important ones to them. Standard modules in medical technology are sales and marketing, Enterprise Resource Planning, production planning, and control or finance and accounting, as well as quality management and product lifecycle management.
Industry-specific ERP systems can have advantages over generalists. The main difference: They adapt to the current requirements of their target group. Systems geared to medical device manufacturers, for example, offer label creation, GTIN management, and batch traceability or device management. In this way, they also cover some aspects that lead to MDR compliance.
Although ERP systems can be customized, the basic idea is always to provide a standardized software platform. This is the reason why companies have to define in advance exactly which areas they want to cover and, depending on the system, demonstrate the courage to leaving gaps. New and more specific requirements can, therefore usually, only be covered in retrospect by additional solutions. This also applies to MDR-compliant master data management.
Master Data Management for Medical Devices
Managing large quantities of master data (Master Data Management, MDM) has become even more important for the medical technology industry due to the MDR but is not covered by most ERP systems according to the MDR requirements. For reporting to EUDAMED itself, a total of up to 130 individual data specifications must be structured and kept up to date.
A Single Point of Truth (SPOT), i.e., a database source, is particularly important to consolidate the data records and enable the networking of the supply chain without suffering losses in the quality of the data records. The integration of other stakeholders is not provided by most ERP systems. But this is an important point, becoming increasingly important for medical device producers when restructuring their processes. Especially in the quality assurance of master data, it is essential to have exactly one data source.
In the short or medium term, it will therefore also make sense to integrate subcontractors and other stakeholders into the master data management, i.e., to grant them access to the system to keep data in one place, traceable, and up to date. For the implementation of the MDR regarding master data management, the following points are essential, which are usually only mapped by MDM systems with MDR specialization:
– timeliness and uniqueness of data
– implementation of the directive: completeness and data pre-validation
– assurance of data quality through an unambiguous data source system
– life cycle of the data is mapped, important for EUDAMED, as the current version must always be stored here
– clear version management
– expansion of digitalization in the company (master data management, communication with suppliers and other service providers)
– possibility for data analysis to be able to further adapt processes if necessary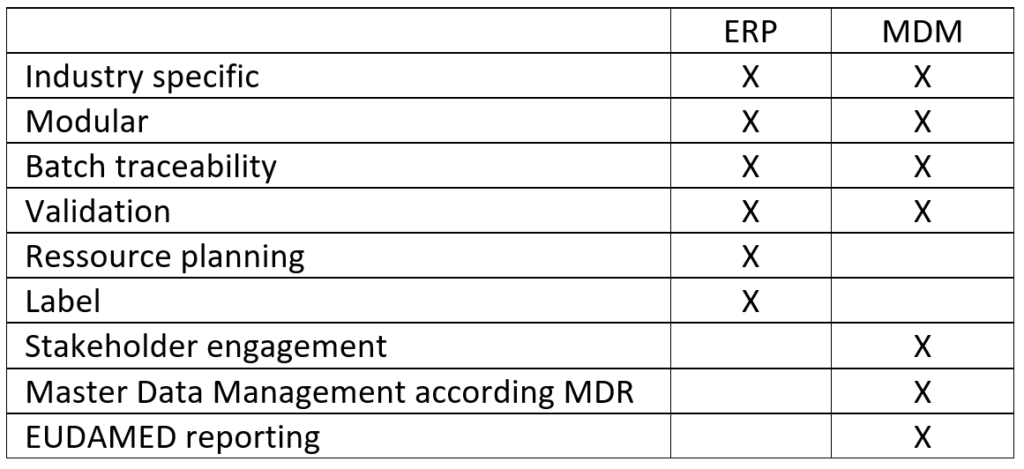 Our MDM solution: mytracekey MedTech
Our mytracekey MedTech solution goes beyond the mere fulfillment of legal requirements. It not only enables the correct data to be reported to EUDAMED, but also facilitates the preparation, updating, and management of large volumes of data in collaboration with cooperation partners along the supply chain. In addition, it is designed to fulfill regulations of non-European markets in the future.
– validated system + pre-validated data
– proven release management
– complete batch tracing
– change and access history
– distinct product variant management