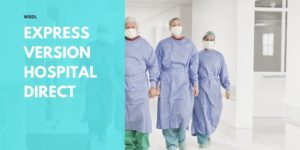 It is not possible to predict today when the Corona crisis will come to an end. Particularly in the hospital sector, the crisis means a high additional workload for all employees. To counteract the lack of time and personnel, we have developed an express version of our HospitalDirect service, which relieves hospitals of at least one time-consuming work step.
Thanks to HospitalDirect, medication packaging no longer has to be individually checked for authenticity to comply with the EU Falsified Medicines Directive (FMD). The manufacturers pass on the data of a delivery digitally and bundled to the hospital pharmacies so that all medicines can be checked out at the appropriate authority, the EU hub, in one step.
For manufacturers: advantages of our express solution
Not only the hospitals benefit from HospitalExpress. The offer of consolidated shipment data is also becoming increasingly important for manufacturers. Digital data deliveries are now regarded as quality criteria and are cited by hospitals and purchasing groups as possibly key to decision-making in the next round of tenders.
The express solution therefore not only meets the current challenges facing hospitals but is also a solution that benefits many manufacturers who need a particularly lean and easy-to-implement solution.