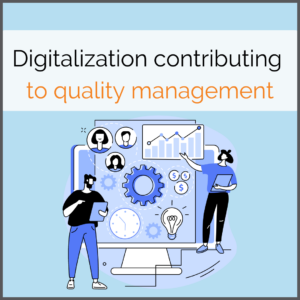 | Our student trainees
Software development and cloud computing require continuous development to steadily improve current operating principles. A significant job in this regard is done by our student trainees. They intensively work on projects that show us new technologies and approaches.
Lynne has been working for tracekey as a student trainee since the end of 2019. In our Customer Success Team, she supports the documentation. Together with the other teams she has optimized and partially automated the process of our internal document management. "In our internal content management system, I have gradually established a new workflow that makes the process of a document from creation to destruction more efficient and further standardizes it," explains Lynne. At the same time, she has been writing her bachelor's thesis at our company over the past few months. Her topic: "Investigating the digitalization of quality management in the pharmaceutical industry using the example of tracekey".
Digitalization plays a role in almost all areas of the pharmaceutical industry. Supercomputers and Big Data support the research process and pills are produced using 3D technology. Since last year, the implementation of the Counterfeiting Directive has also supported the fight against counterfeiting with digital tools. Lynne explains her choice of topics as follows: "Especially in quality management, it must be ensured that the technologies used are safe and do not harm the quality of the drugs. Here I found it interesting to investigate to which extent digitalization influences quality management and what role tracekey plays in it".
Quality management: Safety in all areas
The German Medicines Act (AMG) has defined the quality of a medicinal product. It says: "the nature of a medicinal product determined by its identity, content, purity, other chemicals, physical, biological properties or by the manufacturing process". Quality management guarantees patient safety and ensures the effectiveness of and compliance with the requirements for marketing authorization.
The pharmaceutical industry is one of the most heavily regulated industries in the world. This includes a multitude of standards and regulations. Among them Good Manufacturing Practice or various DIN standards, which relate to the drug manufacturing, but also production or storage. Checking the safety and functionality of the software and other digital tools used is therefore just as much a part of quality management as monitoring the manufacturing process. "tracekey as a serialization provider is regularly audited by its customers," explains Lynne. "Our customers come by and check whether the company also works according to the strict guidelines on site. Additionally, every software update also results in a huge amount of documentation. Every new function must be described in detail, every change must be documented and tested. Our customers receive these validation documents with every new version."
Digitalization leads to efficiency
In addition to the theory of quality and digitalization, part of Lynne's bachelor thesis was a qualitative survey among our clients. She asked them about the impact of digitalization on quality management. However, the results are not representative due to the small number of participants. Although in some points, they allow conclusions to be drawn about the overall picture.
Every area of quality management in the pharmaceutical industry is supported by digital technologies. They are found in planning, safeguarding, and improvement, for example in the evaluation of samples (quality control) or the documentation of processes (quality assurance).
Results
The survey was able to show how digitalization leads to more efficiency for our customers. Furthermore it showed how work steps are eliminated or automated in many places. Standardized document templates also help with approval procedures or similar and facilitate cooperation. but also where digitized tools contribute to more security and reliability, e.g. in the analysis of complex data, additional checks are always carried out.
Even before the introduction of the EU-FMD, our customers have worked with digital applications in many areas of quality management. Due to the implementation of the counterfeiting directive, the use of software requiring validation has increased significantly. This can be explained by the implementation of serialization software, which always has to be validated. Finally, this aspect alone leads to an increased workload.
Although the digitalization of the various areas improves a lot, it naturally also has negative aspects. Lynne says: "Of course, we knew that beforehand, but the survey among our customers also showed once again how strongly the high costs shape the image of digitalization. From infrastructure to maintenance and annual fees, digital tools like serialization software cost a lot of money. This is assessed quite negatively by the companies. Especially concerning serialization, because it is not voluntary, it is a legal requirement."
Our support is valued
Lynne found feedback within the survey particularly interesting: "One of our customers generally remarked how important it is for the software provider to know and understand the internal processes in pharmaceutical companies. Software functions can thus be much better adapted to actual needs and thus contribute to a considerable simplification of everyday work."
In the serialization process, we support our customers not only with our SaaS Pharma solution and our Customer Success Team. We also help by relieving them of a large part of the validation effort for the software. One result of the survey was how happy our customers are that they do not have to worry about most of the software validation themselves. By testing all the new functions that we take on internally, our customers do not have to take all the steps themselves during validation, but only have to check the documentation we provide. 
Lynne's work has shown how quality management, regulations, and digitalization contribute to the safety of medicines and thus to the safety of patients, and how diversely serialization providers such as tracekey are involved in these processes through their services.