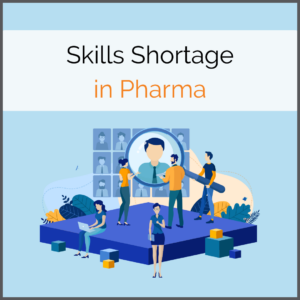 In many industries, there is a lack of skilled workers. It means that there are more vacancies than qualified people to fill them. Demographic change, digitalization, and the increasing professionalization of the labor market are often cited as the cause. Many potential employees are simply not sufficiently trained to meet the requirements of the advertised positions. Consequences can arise, not only for companies but also for employees and the economy.
The skills shortage in the pharma industry is becoming a crucial issue. Rapid growth within the industry and more complex tasks mean that companies often have difficulties finding suitable applicants. In this article we look at how a lack of specialists can occur, what effects a shortage of skilled workers can have on a company and its employees, and how tracekey can support you.
Lack of Applicants
The pharmaceutical industry is highly technological. According to a study by the Institute of the German Economy, published on June 24th in 2022, about 41% of the employees have a university degree. For example, in manufacturing the figure is only 29%. According to this study, between 10% and 18% of advertised jobs in Germany in the areas of research and development, production, trade, and sales cannot be adequately filled. However, IT professions relevant to pharma companies are even more affected. 30% of vacancies cannot be filled. The decisive factor here is largely digitalization, as software development is becoming more relevant in all industries and competition for skilled workers is increasing. On the one hand, the lack of skilled workers in the pharmaceutical industry is a good sign for employees, as they have fewer worries about finding a job, on the other hand, it is a challenge for the companies.
Effects of the Skills Shortage in the Pharma Industry
One factor of the skills shortage is the additional workload on the existing workforce. This can occur particularly in small and medium-sized enterprises (SMEs). Increasingly complex compliance requirements in the sector are crucial here. SMEs often do not have the personnel capacities or financial resources to hire an entire department or individuals for this purpose. Nevertheless, the requirements must be met. Therefore, these tasks are distributed among existing positions. For example, people from supply chain or packaging artwork management must additionally take on the topics of serialization and compliance. This extra work (work+) has consequences for the team and the company. Sick leave increases, which in turn leads to further work+ and overload. The multitude of different market requirements also makes a loss of overview likely. This can lead to delays or problems in market supply if the responsible staff are overworked and even profit losses can result from this.
TKSM – The Answer for work+
One way to counteract the skills shortage in the pharma industry for a company is to outsource certain complex processes. For example, they can outsource their entire serialization process with tracekey PHARMA to us using the tracekey Serialization Manager (TKSM). Our Customer Success Team creates a separate account (tenant) for the corresponding customer. This account will then be operated by tracekey on their behalf. As a serialization provider, we have the necessary expertise for this, which means that the employees can be relieved. The scope taken over by TKSM is also individually adaptable and can be freely configured. Processes that TKSM may take over are:
Configuration of accounts, users, permissions, and groups
Configuration of roles/permissions
Management of product master data
Correction of product configuration
Creation of pools with serial numbers
Management of serial number volumes per pool
Re-upload of production files
Creation of reports
Confirmation after successful uploading of reports
Monitoring and reviewing of reports/transactions
Investigation in case of errors
With this service, tracekey would like to support pharmaceutical companies in easing the workload of their specialists and at the same time meeting the complex requirements of global legislation for serialization.
If you are interested in mytracekey Pharma and/or our TKSM service, please contact us.