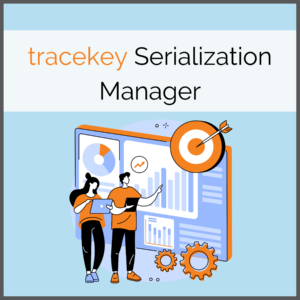 For Marketing Authorization Holders (MAH) and Contract Manufacturers (CMO) in the pharmaceutical industry, serialization is a recurring topic. Each batch must be provided with codes, which must be generated beforehand. For companies with high production frequency and generally more resources, this is usually not a problem. Since it is a regular task, one does not get out of practice. Quality managers, for example, take care of serialization and thus ensure the safety of the drugs.
For small companies with lower production frequency, however, things can be different. If production takes place at longer intervals, one may become unsure of how to handle the serialization process. You have to retrain and thus lose time and possibly money. With tracekey Serialization Manager (TKSM), serialization is simplified by taking the work out of your hands.
What is our service?
TKSM is a service where our Customer Success (CS) Team creates personal user profiles for the customer's tenants. We then operate the system on behalf of the customer. This reduces the workload for companies and employees. The scope of the tasks taken over is individually adaptable and can be configured as required. For example, only the validation process can be taken over or only individual steps. Points that tracekey is able to take over are:
Configuration of accounts, users, permissions, and groups
Configuration of roles / permissions
Management of product master data
Correction of product configuration
Creation of pools
Management of pool size
Re-upload of production files
Creation of reports
Confirmation after successful uploading of reports
Monitoring and reviewing of reports / transactions
Investigation in case of errors
However, thanks to our flexibility, the offer is not limited exclusively to these services. If you have any other questions or concerns, please feel free to contact us.
Our difference to other providers
Serialization is simplified thanks to TKSM by outsourcing and having it handled by tracekey. The software solution and serialization management therefore come from only one source. This is how we offer our customers the best possible service. At tracekey, we are also convinced that the success of our company depends on the success of our customers. The CS Team is largely responsible for their success. With a proactive approach, they solve problems before they arise. If that doesn't work, they are still there to help and advice our customers. The CS Team knows our customers, so they also know where problems might arise and how to fix them. Additionally, we do not work with an impersonal and often slow ticket system. Instead, we weigh the concerns of our customers together and process them according to priority. Thus, help is targeted where it is needed, and problems are solved more quickly.
Shortage of personnel in the pharmaceutical sector
Whether it's a lack of applicants or a lack of resources, the pharmaceutical industry, like many other industries, is experiencing a shortage of personnel. As a serialization provider, we notice that the need is often in the area of quality managers or master data managers. These are jobs that come with a lot of responsibility and the resulting pressure. This is particularly noticeable in small to medium-sized companies. Serialization creates a considerable amount of work for the companies. For companies whose staff is busy, but where it makes little sense to create another position for serialization processes, tracekey Serialization Manager is a perfect addition. Serialization is simplified by having our CS Team take care of it. Repeated training due to non-routine application is thus prevented and the employees can devote themselves to other tasks.