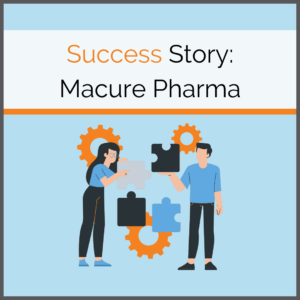 We at tracekey are very happy about the feedback we receive from our customers for our software solutions and support. However, we were particularly excited about hearing the feedback from Macure Pharma. That's because they took the effort to switch their serialization provider and chose us. Especially for a project as important as serialization, it requires effort and a lot of trust. In fact, switching serialization providers can bring some risks.
Find out how Macure felt about the switch. We talked to them and had some questions answered. Among other things, we wanted to know why exactly Macure decided to switch, how they felt about the change shortly afterwards, and how things are looking now.
Potential risks
Pharma companies not satisfied with their current serialization provider, may still be reluctant to make the switch. Because of potential difficulties that can arise during the process, people stay with what they know. One of these fears is that implementation will take too long. If this process is delayed, the worst-case is that products cannot be serialized. To avoid this, we correspond with interested parties early enough. This way, we ensure a seamless transition of contracts and systems, as we did with Macure. A migration plan for all business partners also helps with the transition. Accordingly, connections are implemented in a prioritized order. As a result, production at the customer's site does not come to a standstill. Unforeseen costs are another point of concern. To counteract this, an implementation is planned by us in advance in a precise and transparent manner, so that there are usually no additional costs.
Why the change?
There can be many reasons for customers to switch their provider. Perhaps too high costs, unsatisfactory support, or missing interfaces to the supplied target markets. In our conversation with Macure, it became clear that their focus was specifically on the user-friendliness of our new platform of their serialization provider. It was important to them to be able to navigate the system independently in the long term, without having to contact the support due to the complexity of the system. This is another way to save time and money by not having to rely on the response of support. Regardless of clarity, after Macure has already switched, our Customer Success team turned out to be one of the biggest advantages for them. Regarding the question of the greatest benefit, Macure responded, "The support from tracekey has always been superfast and great. The support goes beyond expectations and comes with great advice."
Perception at the beginning and now
Macure confirmed that they were happy about the change in the beginning. The familiarization and independent handling of the new system ran smoothly and without problems, so the initial reason to switch was rewarded. The connection was also completed fast, allowing serialization with mytracekey PHARMA to be carried out quickly. Even after many years of use, Macure is still very satisfied:
Overall, we have never been questioning the switch. It has been the right decision for our company. tracekey matches our values and processes. The system is very simple and easy to work in, hence we only rarely need to be in touch with the support, but when we do or when setting up a new CMO we always get quick replies.
– Macure Pharma
Scalability
Due to a wide range of connectors for different markets and serialization solutions, tracekey is an ideal partner for scaling. For example, the connectors for our software are modularizable and configurable. This means we can customize our software to what each individual company needs, without paying for unused features. We adapt the scope and therefore costs accordingly to the situation and needs of our customers, allowing them to achieve better scalability. This is also how we assisted Macure in their expansion into new markets. When asked whether we were able to provide support for the targeted growth, the answer was clearly positive. There was also praise for "great advices when entering new markets." For example, we were able to implement reporting for four new markets within three months in the fall of 2022. This is how we want to enable all our customers to enter new markets and ensure compliance.