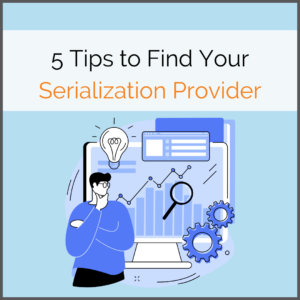 Pharmaceutical companies in need of a serialization provider are well-advised not to choose one arbitrarily. As an integral part of compliance and possibly years of collaboration, it is important to have a partner with whom you are fully satisfied. This is because, as in any industry, there are quite a few differences between providers. In this article, we highlight five tips to consider when choosing a serialization vendor.
In doing so, we address some obvious points and some that may not be. These include the cost, modularization of the offer, language barriers, references in terms of support, and the other useful products of the providers.
The Cost
Probably the most interesting and obvious point for a company when choosing a product, software solution, or service is the price. However, when getting quotes for from providers, not only the standard price is relevant but also the scope of the software. If a modularized software is offered, this means that pharmaceutical companies can determine the scope of the software themselves and thus put together their own cost-efficient solution. Purchasing an all-encompassing software is comparatively more cost-intensive, but at the same time offers more functions.
Modularization
The modularization of a serialization solution should not be underestimated. What is meant here is that the vendor's software can be put together in the way that customers need it. Do I need all the available modules? What makes sense for my company and what doesn't? Does the vendor only have an all-in-one package? If there is no offer for modularization, a not-inconsiderable amount of unused software may be paid for. It is advisable to inform yourself in advance and obtain offers from different providers. Modularization makes it possible to save a lot of money.
Language offer
Language plays a crucial role for a good customer service. According to a survey by the International Customer Management Institute (ICMI), around 86% of the interviewed customers have little or no knowledge of English. Even with a good knowledge of English, it is not always easy to verbalize one's concerns clearly. This is especially true in working areas with a large number of important technical terms. It is therefore recommended to choose a provider where members of the support team speak the same language as those seeking help, and at a high level. Accordingly, help can be provided in a more targeted and efficient manner, thus achieving success more quickly.
References and support
References are also intriguing when choosing a serialization provider. What opinions do customers have? Do I have business partners with testimonials that I can ask for? Can I find unfavorable reports? Here, too, there are significant differences between providers. In some cases, the support team is heavily overburdened, does not keep up with processing requests, and usually works reactively. On the contrary, some teams even work proactively and contact customers before they even notice an error themselves. In-depth research regarding references and support is therefore highly recommended.
Additional products
Another argument in favor of a serialization provider are the additional products in its offering. Some companies provide suitable Extensions to their main products. These can be solutions that make work easier for customers or those with special relevance for the pharmaceutical industry. Examples could be delivering consolidated shipment data to hospital pharmacies, a service that takes over parts or even the entire serialization process for customers, or the management of alert systems. If there is interest or a need for these product extensions, customers should inquire whether solutions of this kind are available.
What can tracekey do for you?
As one of the leading serialization provider for pharmaceutical companies, we invite you to approach and learn more about us.
In addition to the serialization of medicines with the help of our highly acclaimed Customer Success Team, we offer further possibilities to support our customers. By using our tracekey Serialization Manager (TKSM), we can take over all tasks of the serialization process. With mytracekey HospitalDirect, we enable you to deliver consolidated shipment data to hospital pharmacies. And thanks to our Alert Management Service, pharmaceutical companies can outsource their business processes to us.
If you have become curious, then contact us and convince yourself of our solutions for the pharmaceutical industry.