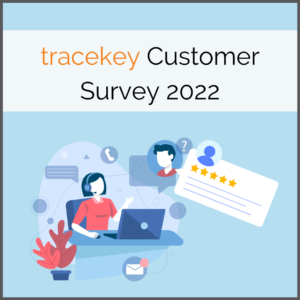 As in previous years, we contacted our customers and asked them about their satisfaction with us in 2022. We wanted to know if they have some potential suggestions and comments. Based on these insights, we try to further improve our software solutions and services. We stay up-to-date and continue to be a reliable partner for our customers in meeting global compliance requirements.
As a Software as a Service company, we were particularly interested in feedback on the software, support, general suggestions for improvement, and special requests from participants. We also wanted to know which topics are of particular importance to our customers in 2023. Conducting this survey helps tracekey to engage with our customers and to design our software solutions as customer and user oriented as possible.
Customer feedback
Just like in the years before, we are very proud of the results of our satisfaction survey for 2022. 90% of our customers are "very satisfied" with tracekey solutions. An impressive 89% perceived tracekey's support as "very satisfied" and every one of our customers would recommend us as a serialization provider. The following statements also reflect the customer's satisfaction:
We are very satisfied. Very good support, good departments, helpful and quick responses. Support sometimes sees a report failure first and contacts us. This is very cooperative. – EU-Pharma B.V.
Excellent, impeccable. Help is given quickly. My best recommendations to the Customer Success team. – AOP Orphan Pharmaceuticals AG
The feedback for our software was also very good:
The mytracekey app is very easy to train. New employees quickly get an overview. Optimal for Stegemann, not too overloaded, easy to train, and clearly arranged. – Stegemann Lohnverpackung & Logistischer Service e.K.
Your software works so well that, if there is a problem, we totally freak out or panic because we have no routine with errors. – Waymade plc
A fast and efficient solution to our problem. – Lallemand Pharma Ltd.
We owe these outstanding results especially to our development and customer success teams. This feedback confirms once more the recurring good ratings of tracekey obtained during our tracekey customer satisfaction surveys in 2020 and 2021.
Topics for 2023
We also asked our customers what topics they want to prioritize in 2023. It turned out that some of our clients want to enter new markets in the future and are also aiming for growth in existing markets. Keywords such as "new markets and regulations", "USA", "UAE" and "onboarding new business partners" came up most frequently. This gave us insights into the key focus points for 2023 so that we can provide our customers with the best possible support in this area. The agile setup of our teams is of great benefit here. It allows us to respond flexibly and promptly to the needs of our customers. Handling alerts and the AMS service portal of EMVO were also mentioned. tracekey has already responded to this trend and is currently working on expanding the existing solutions and services to offer our customers even more support in the future.
We say "THANK YOU"
We want to thank our customers for the trust placed in us over the years. To be a reliable partner regarding the implementation of global compliance projects, the insights from the tracekey customer satisfaction surveys are enormously important. They help us to continuously develop our software solutions as well as our service. We value personal contact with our customers and are pleased that they share their thoughts and wishes (so honestly) with us – even those that sometimes find no place in everyday business.