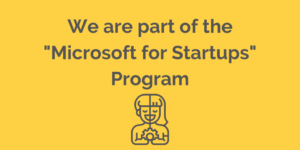 Lately, we have been incorporated into the two-year Microsoft Startup Program. We are very happy about the opportunity to benefit from the many advantages of the program. Microsoft for Startups is a comprehensive program that delivers the technology, go-to-market, and community benefits needed to catalyze startup success. The program helps B2B startups from more than 140 countries connect their game-changing solutions to Microsoft's enterprise customers.
Microsoft for Startups: "Committed to listening to the needs of diverse startup communities around the world, Microsoft for Startups offers include a wide range of technical and commercial supports as well as a unique set of vertical tracks such as Social & Sustainable Entrepreneurship, Quantum and Autonomous Driving. Ultimately, we strive to be the place where B2B startups scale on the most trusted cloud platform, enabling startups to gain access to the technology and customers they need to succeed.
As a successful applicant for the Microsoft for Startups program, Microsoft for Startups is committed to supporting tracekey through our two-year program with the ultimate goal of Co-Sell readiness between Microsoft and tracekey. tracekey was selected for the program on the back of meeting our program criteria of a cloud-based, business to business solution, that had achieved Seed/Series A funding whilst being in operation for less than five years. Its strong business model, displaying uniqueness and potential for scalability in the marketplace, was also a key factor in our decision to approve the company for the program."
Together with Microsoft for Startups, we are now working out ways in which we can make the best possible use of the many opportunities the program offers us within the two years and use them for our growth.