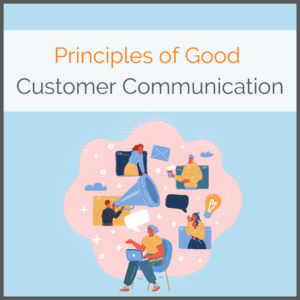 In addition to our user-friendly software solutions, our customers especially appreciate the good communication with tracekey. They have consistently praised us for our services in satisfaction surveys and personal conversations. Being easily reachable, implementing our customers' wishes quickly, and providing uncomplicated assistance – we try to implement these three core competencies whenever possible. 
But how do we want to achieve this ambitious goal? Through good internal and external communication, agile, cross-team working methods, and a certain amount of pragmatism. Because if the communication channels don't work internally, it affects our customer communication and vice versa.
No anonymous ticket systems for our customers
Unlike other serialization providers, we do not work with an impersonal ticket system and always try to facilitate direct and personal contact. To effectively work with our customer-centric approach, it is crucial that all team members are aware of the current status of our customers' pending tasks and have easy access to this information. Reducing request processing time is one benefit, while the shorter communication path facilitates finding solutions. Also, it is easier to assist in a direct exchange than in a tedious back-and-forth correspondence. It creates more collegial cooperation between our CS team (and other teams, depending on the topic) and customers. This makes it easier to reach out for help, even for seemingly small issues.
A good service provider-customer relationship naturally likewise has an impact on general customer satisfaction. But we are not only relying on personal communication. By consulting our user manual, our customers can easily overcome many common issues without ever having to pick up the phone. Additionally, to deal with minor uncertainties, we have recently introduced a customer newsletter. It addresses frequently asked questions from our customers and allows them to refresh their knowledge about our software and pharma serialization in general or to learn new and easier ways of working with our software.
Pharma serialization is not a one-time project neither is MedTech regulation. Thus, we are constantly faced with new requirements from our customers. Be it new target markets, business partner onboardings, or services that can make it easier for customers to work with our software. Through close cooperation and productive exchange, we always stay close to the action and try to position our customers in the best possible way for the future. To this end, we are constantly adapting our offering.
Remote experts: always close, even from a distance
When the Corona pandemic first hit, numerous companies had to adapt to the new reality of remote work. Especially in the area of communication, this can be a challenge. At tracekey, we were fortunate to have worked this way before. Therefore, an energy-sapping changeover was not necessary. This long-standing routine also flows into the work with our customers. Our teams know what is essential in good communication. In particular, if it takes place remotely. Even the little things matter here. To successfully achieve our goals, we prioritize complete transparency in our processes and maintain constant and effective communication.
An open-minded approach is crucial when dealing with requests, particularly during the onboarding phase or when substantial modifications are taking place. In this way, we want to be close to our customers, even remotely, and find simple solutions for complex issues. Sometimes, however, it has to be complex solutions for complex demands. All teams work together to find the best way for our customers.
Internal communication
A big part of our success recipe is cross-team collaboration and continuous exchange. Good customer contact is important. However, it is not enough for the Customer Success Team to forward a customer request to the developers. After a software update, there is documentation, targeted information for the customers, possibly training, testing by the customers, and so on. Many pieces of the puzzle require the commitment of all teams. Our agile way of working is a great help here. Interdisciplinary collaboration and flat hierarchies greatly facilitate communication among each other. Accordingly, an information chain looks like this:
Customers tell the Sales or Customer Success team about a change or innovation they need. Sales and CS then discuss the possibility of an adaptation with the development team. Then, concerns are prioritized, capacities are determined, and the exact process is planned to implement the customers' wishes. The agile structure of our company is also helpful here. With the help of sprint intervals, adjustments to our software can be made quickly and flexibly so that our customers can always meet current market requirements.