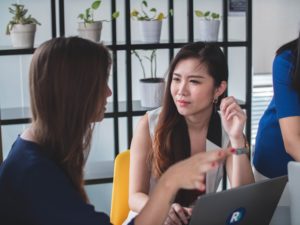 If you think of business software, the well-known names of large software manufacturers come to mind, but it is worth looking beyond the end of one's nose especially for small and medium-sized companies. For them, smaller providers mean service at eye level as well as specialized and clear offers.
No matter in which field, digital change is gradually transforming the entire industry and changing most of the established processes. To keep up with rapid change, companies need reliable partners at their side. Small and medium-sized enterprises (SMEs) in particular are still struggling with the concrete implementation of digital transformation. Although they have understood the importance of topics such as Industry 4.0 or Big Data, they often hesitate to make the necessary changes. Could it be that the apparently best providers, the large software companies, act as a deterrent to smaller companies? There is probably no general answer to this question, but it is obvious that SMEs feel better off with companies with which they share common values and characteristics, i.e. with which they can act at eye level.
Service at eye level
Large corporations require large (ERP-)systems that also cover all possible application scenarios, but medium-sized companies should also look around the smaller competitors of the market leaders. There is a large selection of medium-sized software providers in Germany. Their big advantage is that they are not anonymous giant groups with hundreds of employees and contact persons, but often owner-managed companies that really care about personal support at eye level with their customers. In addition, national providers can often better adapt to the individual needs of their customers – tracekey, for example, is on-site and at the same time fulfills national and international requirements.
Specialized software solutions
Many of the smaller software companies offer specialized solutions for individual industries or offer special technological functions. As an owner-managed company, tracekey also sees itself as a software provider especially for SMEs, and currently focuses on the pharmaceutical industry. With the tracekey cloud platform, we offer pharmaceutical companies a big data solution to track drugs to create transparency in the supply chain. Data management in the cloud is exactly our thing. The support is completely focused on medium-sized companies – personal and target-oriented. We offer a solution that only offers companies exactly the functions they need and can otherwise be integrated into the existing IT infrastructure.
For the pharmaceutical industry, we have developed a solution that works for the entire industry – not just for a few customers. At the same time, it is clear and easy to integrate.
And in the future? Our customers are satisfied, and we are ready to extend the tracekey solution and make it usable for other industries as well.
Do you have any questions? Please feel free to contact us.